Bangkok's best rooftop bars
No matter what season it is, one of the best ways to experience Bangkok is with a bird's-eye view over the city's magnificent skyline. Here are some excellent places to visit for a nice, refreshing cocktail or a delicious meal that offer truly beautiful views over the city.
Octave Rooftop Lounge & Bar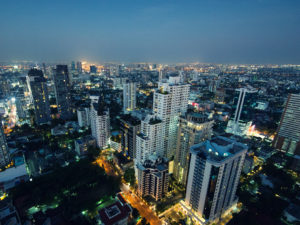 Octave is a stunning rooftop bar on the 45th floor of the Marriot Hotel in Thong Lor.  It's actually split over three floors, with the first two levels dedicated to dining and a very swanky bar at the top with breath-taking 360-degree views over the city. The design is sleek, contemporary and the cocktail list is very good. Great for watching the sunset while a DJ plays some chilled out tunes. Service was very friendly when I visited, and for a posh hotel bar the drink prices aren't too bad. They also have a happy hour daily from 5pm -7pm with buy one get one free cocktails. If you've only got time to visit one rooftop bar in Bangkok, the Octave won't disappoint!
Best for: Breath-taking sunset views and chilled out vibes
The Nest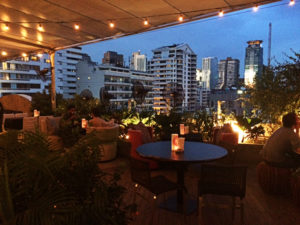 The Nest is a stylish and cosy rooftop bar set on the 8th floor of Le Fenix Hotel on Sukhumvit Soi 11. It features a sandy 'beach' with comfortable sofas and daybeds and has a retractable roof, which is great for those rainy days.
There's a good selection of cocktails and beers on the menu. Dining here is also a good option with European and Asian Fusion cuisine and some light bites to share.  To be fair, it's a little bit pricier than most places nearby, but very much worth visiting for the atmosphere. There is a happy hour with two for one cocktails, although the last time I visited, it didn't start until 9pm. Oh, and they serve shisha too, while the DJ plays some chilled out electronic music most evenings. The Nest is located a little bit out of the way, approximately a 10 minute walk from Nana BTS, but it's well worth visiting for the relaxed, friendly atmosphere.
Best for: Rainy days and relaxed evenings
Sky Bar and Sirocco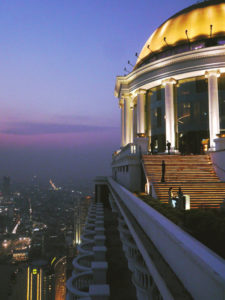 Probably the most iconic of Bangkok's rooftop bars, this is the one that was featured in The Hangover 2. The world's highest alfresco restaurant, super stylish and winner of all kinds of awards, Sirocco is the ultimate rooftop destination for anyone seeking the ultimate 5-star luxury. Don't plan on just turning up for a meal though, as a reservation is required for the restaurant- sometimes weeks in advance. No booking is needed for the Sky Bar, however. Sure, it's definitely pricey, but the food and drinks are delicious, the service excellent and the views are just stunning.
Best for: The wow factor
Cloud 47
Sitting on top of the United Tower in Silom, Cloud 47 is a very spacious bar, restaurant and live music venue that's split into two areas. First you have the open air bar area which also serves as a live music venue. On a rainy day you can sit under a roof in the small balcony area at the edge. The second part is more like an indoor wine bar, but the glass windows will give you a fantastic view on all sides.
This is a great place if you're looking for something a bit more entertaining, as there is live music most evenings after 10pm. The atmosphere is friendly and surprisingly relaxed. Unlike Bangkok's many other rooftop bars, the dress-code is casual, so it's a very easy place to pop into without having to worry too much about proper dress. Drinks are priced reasonably and the views are amazing. Finding here can be a bit tricky, so I recommend looking up the location in advance.  The nearest BTS is Sala Daeng.
Best for: A casual evening out with drinks and music
There are, of course, many more. The places introduced here are the ones I personally think stand out, whether it's for the views, atmosphere or just the experience.  Have you visited any of the bars above or any other rooftop bars in Bangkok? Let us know about your experience in the comments!
People who read this also read: