Cartoon Network Amazone Waterpark Pattaya
Having opened its doors a couple of years ago, the world's first cartoon-themed waterpark has been generating lots of buzz among locals and visitors alike. As far as waterparks go, this really is bigger and more spectacular than anything else out there, with 30 thrilling attractions featuring popular Cartoon Network characters such as The Powerpuff Girls, Gumball, Ben 10, Johnny Bravo and many more.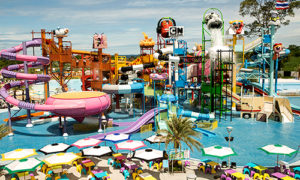 There's something for everyone, from kids' slides to more extreme stuff for the adults. For the younger kids there's the Cartoonival Zone with 9 water slides, water buckets and different pools to play around in. In Adventure Zone you can experience lots of exhilarating slides with many twists and turns, whereas in the huge Mega Wave you get to bob up and down on the waves or on a boogie board. Next to Mega Wave is the Surf Arena, a great chance to experience the thrill of the waves whether you're a beginner or a seasoned pro.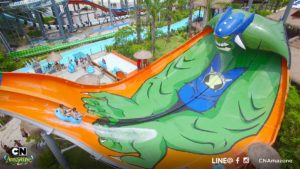 The Omnitrix is not for the faint-hearted. Starting from 25 metres, four riders make their way down a 350 meter slide, twisting and turning before dropping into the giant Omnitrix Dome, the biggest fully enclosed water dome in the world. Adrenaline junkies will also get a kick out of the Goop Loop, a gravity-defying water rollercoaster that takes you from zero to 2.5Gs (I think that means 2.5 times gravity) in less than two seconds.

There are also daily live bands and DJs, while the kids get a chance to meet and hang out with their favourite Cartoon Network characters. It's a fun experience for all ages, and can be done easily as a day-trip from Bangkok. The water park is located about a 20-minute drive from Pattaya city and about 2 hours drive from Bangkok. If you'd like to visit, please talk to us. We can arrange 2-way transfers from your hotel in a private car or minivan.
People who read this also read: