ElephantsWorld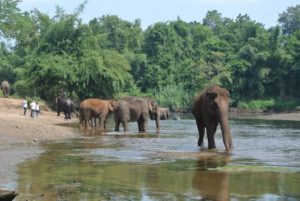 We've talked about wildlife conservation before on this blog, and for a good reason. Many tourists like to see and interact with wild animals such as elephants and tigers during their trip to Thailand. Elephant camps and shows are marketed aggressively at tourists. It's a big business.
The sad truth about these popular activities is that taming the elephants – which are wild animals by nature – for riding or doing tricks is a brutal process involving beatings and torture until the animals become submissive to humans.
The good news is that there are more humane and responsible ways to interact with elephants in Thailand. ElephantsWorld is a non-profit conservation project based in Kanchanaburi that functions as a sanctuary for sick, old, abused and rescued elephants. Their motto is "we work for the elephants instead of them working for us".  Here is where the animals are free to live out their days, without any abuse, in their natural environment.
The sanctuary offers two types of programs for visitors. The Day Program is a full day visit where you get to help by planting banana trees and sugar cane, preparing vegetables and rice for the elephants  and feeding sticky rice balls to them. You also get to take the elephants to the nearby river for a nice bath and even have a swim.
The staff are very welcoming and clearly have so much compassion for the elephants in their care. They will gladly share their knowledge about the behaviour of wild elephants, the challenges that they face and conservation efforts to protect them. They know each individual animal very well and can tell you so much about each of them.
The Overnight Program includes all the activities of the Day Program, plus you get to stay overnight in a traditional Thai style cottage by the river Kwai and spend an additional day either just observing the elephants or helping to take care of them.
If you would like to visit ElephantsWorld, you are advised to make a booking at least 2 days in advance. You can find more information and a booking form on their website: www.elephantsworld.org
People who read this also read: