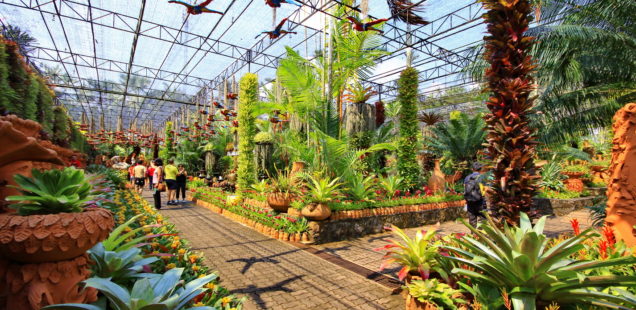 Nong Nooch Tropical Botanical Garden: One of the Most Beautiful Gardens in the World
Gardening is an art form, from the Zen-like gardens of the eastern origin to Western floral sanctuaries.
No wonder Nong Nooch Botanical Garden was hailed as one of the most beautiful gardens in the world with its beautifully landscaped park in a 2.4sq.km near Pattaya, Thailand.  Nong Nooch Botanical Garden is home to a wide array of flora with daily cultural shows, restaurants, and accommodation.
The whole area also showcases individually themed gardens such as 17th-century French garden, Stonehenge, or European Renaissance garden.
There are also species-specific gardens, such as cactus and succulent plants, orchids, tropical palm gardens, bonsai, and topiary garden. Walking alone will not be enough to cover all its garden due to vast landscape. It's advisable to rent a bicycle to explore the whole area.
One of the highlights on this garden is the largest collection of orchid nurseries with more than 670 native species and hybrid in the country. Another big highlight would be the the French garden, with its symmetrical design and shrubs modeled after the gardens of Versailles. 
Nong Nooch Garden also features daily shows at the Thai Cultural Hall with the spectacle of sights and sounds in a classical Thai dance, Muay Thai or ancient drum performance, as well as the elephant talent shows.
So walk around the flowers and take time to breathe in the beauty!
Nong Nooch Tropical Garden
Opening Hours: 09:00 – 17:00
Location: Km. 163, Sukhumvit Road (Highway 3)
Tel: +66 (0)38 429 321, +66 (0)38 425 748
You can also rent a car with a driver from your hotel to take you to Nong Nooch Tropical Botanical Garden and back for ease and comfort!
People who read this also read: