Tiger Temple Update
We sometimes get asked about trips to the Tiger Temple or Wat Pha Luang Ta Bua in Kanchanaburi. Those visitors, as well as regular readers of our blog, know that we have never taken our customers there. Four years ago we wrote a post explaining our stand on this.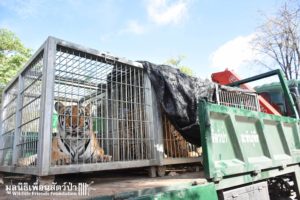 For years the temple had continued to operate under controversy and heavy criticism. Animal welfare groups had long accused the temple of promoting a particularly cruel form of tourism with tigers being kept in inadequate conditions, abused and exploited. Several sources also suggested the temple was involved in the illegal wildlife trade with reports of live animals being sold to traders in neighbouring countries.
Following years of allegations and growing international pressure, Thailand's Department of National Parks, Wildlife and Plant Conservation (DNP) finally took action and raided the temple in May 2016. Despite initial resistance from the monks at the temple, eventually all 137 live tigers at the premises were located and removed.
Shockingly, authorities found strong evidence of illegal breeding and wildlife trafficking including jars full of dead tiger cubs and a dead bear cub. A live bear cub and 12 hornbills, a threatened species, were also discovered as well as dead bodies of other protected species including an Asian golden cat and an Indochinese leopard. A further 20 live tiger cubs, that were seen just days earlier, were reported missing. Products seized from trucks trying to leave the temple included tiger skins and other products involving body parts.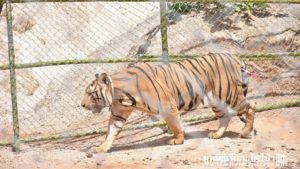 The live animals have now been relocated to government-run wildlife breeding centres and the temple has been closed to the public. The royal Thai Police are investigating allegations that several monks at the temple were involved in the abuse and illegal wildlife trafficking, while animal welfare organisations such as WWF are appealing to the Thai government to permanently ban the keeping of animals at the temple. Although the future still looks uncertain, this latest move by the DNP demonstrates some small improvement, for now at least.

Thailand is a wonderful place to get up close to wildlife, but breeding tigers in captivity to be sold for profit or to be used as props for tourists' entertainment doesn't do justice to these wonderful creatures. We will never want to be involved in promoting this type of cruel tourism either. If you are interested in meeting wild animals on your travels, feel free to get in touch. With our car/van and driver program, we can create a tailor-made tour taking you to attractions such as Kanchanaburi Safari Park and Open Zoo, where animals can roam free without chains or having to perform tricks. Happy, responsible travels!
People who read this also read: