3 days Private Car/Van and Driver in Bangkok
There is and always has been one hiccup in the utopia that is Bangkok – traffic. I will be the first to admit the fact that Bangkok is crawling with transportation. On the ground, under the ground, in the sky and in the water there is some way for you to get where you're going. But they all present challenges and for young children, the elderly, the disabled, and people who might just be a little out of shape they are not all accessible. Catching and getting off of public buses can remind you of Hollywood westerns where robbers try to jump on to moving trains from horseback, and getting in and out of crowded boats is an equally exacting physical test.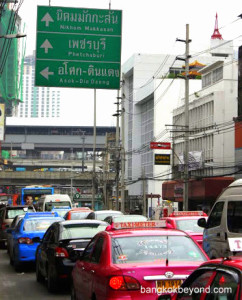 Taxis are great, sometimes. Traffic is bad somewhere everyday. Of course it would be very difficult for you to know where exactly that is and if it is going to get between you and your goals for the day. You might have a hard time communicating with drivers who don't speak English, and you might get a pushy driver who wants to take you somewhere that will pay him commission or just rip you off on the fare. They might drive recklessly and spend the time at red lights cracking knuckles and other joints menacingly.
Experiencing the city in a private vehicle seems to slow down and open up. More is accessible, and more is done. Adding a professional driver to the private vehicle is great when traveling because they will know where traffic is, how to avoid it, and how to help you adjust plans around it.
Things are safer, more comfortable, and relaxed for kids, old folks, and us disabled people when you have a private vehicle. Crossing a busy Bangkok intersection when your top speed is 2 kilometers per hour is a powerful experience, but by no means a relaxing or pleasant one.
Our 3 days with a driver promotion relieves you of all these stressors and challenges, while adding the element of an English speaking host in the driver. They can help you schedule around sudden traffic occurrences, and if you do catch some traffic it will be weathered in a comfortable, modern car/van surrounded by your friends, family, and your knowledgeable host at the helm. The driver can help explain things as you explore the city, broadening your understanding of what you see and enhancing the memories and stories you get to take home.
It includes 3 days between (5 a.m to 11 p.m) with a private van and English speaking driver to go anywhere you want in Bangkok. If it's possible for you to see all you want of Bangkok in two days, you can take a day and go to the floating market or even Ayutthaya, at no extra cost. We're trying to help the drivers stay busy after the recent slump and the annual low tourism season, so we'll be offering this promotion from now through the 30th of June giving you plenty of time to make plans.
And when you look at the money you would have to spend on taxis, tuk-tuks, and everything else on top of the added time and stress of public transport it can also offer a lot of savings and return. With our current promotion, hiring a private driver won't cost any more than getting around on your own and might actually be less expensive. And it's definitely going to lead to more happy and memorable experiences than you might go home with if you were to, for instance, get caught in the rain with your shopping bags, hungry kids, and no taxis willing to go to your hotel.
If you are interested find out more about Rent driver 3 days in Bangkok.
People who read this also read: