Bangkok Calms Down for Makha Bucha Day
Happy New Year! Again. The year of the horse and I'm glad to be here to meet it. Lots of excitement in Bangkok lately as I'm sure you've seen, but it isn't slowing down travel to most areas at this point, and everyone is being very civilized and patient about everything again.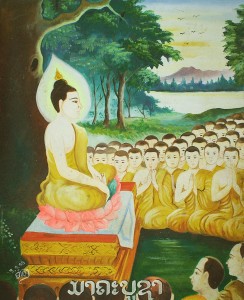 I was in Chaeng Wattana by the government complexes last week, not realizing they had moved immigration to an emergency location. The scene was peaceful and fair-like, honestly. People were selling T-shirts and snacks, and a voice boomed over a loudspeaker. Without the military barricades and camouflage all over the place you would have thought it was some kind of festival; not what it was a few months ago at all. Things are returning to business as usual.
This month Buddhists in Thailand will observe Makha Bucha Day, it is the third day of the lunar month and commemorates two important events in the life of the Buddha. His miraculous teaching, 7 months after he was enlightened, when 1,250 monks and some untold number of animals came from all directions without prior invitation to hear him speak. On the same day 45 years later he gave his final teachings shortly before dying. It is a day of great reverence for Thai Buddhists, and excellent opportunity for travelers to get a really intimate look at an integral part of Thai culture.
Of course Valentine's day is very international now too, and a great time for a romantic holiday with someone close, and the ever eager holiday sculptors here in the land of smiles are ready with specials on room rates, concerts, dinners, cruises, and anything else you could imagine to help you create that memory that you'll treasure for the rest of your life. I just wish someone would help me figure out what I should do.
We look forward to seeing you out here sometime in this, the Year of the Horse!
People who read this also read: