Bangkok Varee Festival: Experience the Venice of the East at the Heart of Bangkok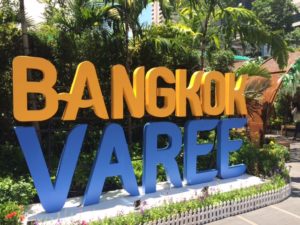 The people in Bangkok have always had a close relationship with the Chao Praya River. The story goes that hundreds of years ago, King Rama I wanted to expand Ayutthaya's water paths, so he commissioned a canal to be built around the ancient capital called "Khlang Rop Khrung". Eventually the canals became increasingly important to trade and transport, and people started to settle down along the river, creating several distinct communities and earning the city its nickname as the "Venice of the East".
The Varee Festival is a floating pop-up market in the heart of the city that lets you experience the riverside way of life in the heart of the city. From now until the end of the month, the square outside Central World is transformed into a huge open air market that lets you shop, taste and sample your way through life in the bygone era. As you stroll along the "river", you get to tuck into various authentic Thai dishes that are local to each one of the eight different regions that are represented there.
I visited today for lunch, and it was a very pleasant experience. Very hot for sure, but it wasn't crowded, and I had a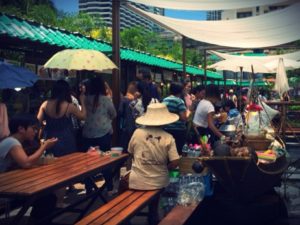 very nice stroll through. Although all the different sections appeared very clearly signed, my Thai wasn't really good enough to understand all the information or relate all the foods to the distinctive different communities. What I do know, is that there are eight different districts represented. I began my walk at Kuudejeen, which is an old Thonburi community, followed by Taling Chan which is known for its floating markets. Here you can find vendors selling fruits, vegetables and soft drinks from cute little boats, buy some snacks from the nearby stalls or just chill in the open air dining area. From the floating market you can head along the river through Bangkok Noi, Banglamphu, Phukhao Tong, Pak Khlong and Tha Tien. Near Pak Khlong, which in real life is home to a large Chinese community, there is also a blooming flower market.
There's so much food that it's quite hard to choose where to start! All the usual Thai dishes you would expect can be found here from pad thai to mango and sticky rice, and they are surprisingly cheap! There is one stall specialising entirely in som tam from Udon while another had all different types of tom yam soup. As this is Thailand, there are lots of deep fried things everywhere, and although the fried squid looked amazing, I eventually settled for a more waistline-friendly option of grilled chicken instead (with hot sauce, of course). Other traditional Thai dishes you could try include khanom jeen (small rice noodles with curry), hor mok pla chon na (steamed fish curry served in a lotus leaf) or gui chai (Chinese dumplings) to name but a few!
It doesn't just end at food though. There are also cooking demonstrations, arts and crafts and musical performances to enjoy daily, making the Varee festival a vibrant cultural experience that you could easily enjoy on your own as well as with friends or family. So, if you happen to find yourself around Ratchaprasong intersection at any time from now on until the end of the month, it's well worth stopping by.
People who read this also read: