Bangkok's Water Parks
It's a great time of year to explore Bangkok's water parks, so here I offer a short list of good ones:
Mall Bangkapi – the Mall Bangkapi boasts and excellent rooftop water park, along with its being a sprawling shopping mall, in the center of a sprawling shopping hub that includes a couple of malls (one called Happy Land) and a fresh market.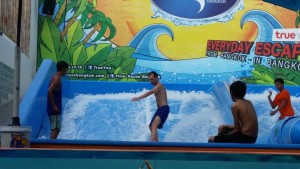 Flow House Bangkok – this is a cool indoor surfing/wake boarding park with simulated waves and wake for riding. It takes a little balance and might not be much fun for the frail, but your kids will cherish and oft recall the memory of watching dad wipe out.

Dream World – Dream world is not hard to get to and is a full day of outdoor fun. It is roller coasters, water slides, fun houses, and everything in between. This includes some savagely overpriced concessions, but we all know to expect that sort of thing before even going into a place like that.
People who read this also read: