Best of Bangkok, The Winning Eleven Part 1
I know this isn't the first (or the last) time somebody makes a list of the best Bangkok has to offer. Nevertheless I want to list my favorites anyway, and hopefully somebody will find it useful or at least somewhat interesting.
1. Grand Palace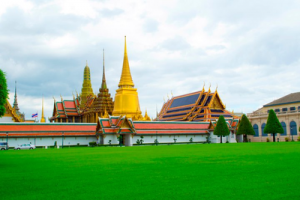 I know this is everybody's first choice, and for a very good reason. If you've been to Bangkok and haven't seen the splendor of Grand Palace and Wat Phra Khaew, then shame on you.
I'll never forget my visit there over 10 years ago. I've been meaning to go back there again, it's high time I pay another visit.
2. Street Food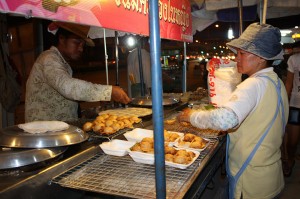 Many of the people visiting Bangkok misses out on one of the greatest things Bangkok has to offer, Street food. They are wary of trying it, thinking it's unhygienic among other things. I couldn't disagree more. They use fresh ingredients and they cook the food right in front of you. You just need to use common sense and you'll be fine.
The enormous variety, the taste and the incredibly low price makes the street my favorite place to eat. What's better than kicking off the day (or ending the night) with a steaming bowl of guay-tiaw, noodle soup?
3.  The Canals or Khlongs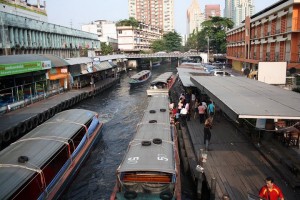 On my first visit to Bangkok I remember wondering where the poverty was. I saw some people begging on the street and some dirty kids peddling candy or flowers. I saw some buildings that didn't look up to code, but it wasn't until I took the canal tour that I saw how the less fortunate lived. I've seen worse conditions elsewhere, nevertheless it made an impression on a spoiled western young man.
At the same time touring the khlongs is like stepping into a different time. Bangkok used to be called "Venice of the East" because khlongs ran through the whole city. Now most of them have been transformed to roads, which is a shame since boat is my favorite mode of transport in the city. The only downside is the smell, which is bad in places, and the dirty water.
Also if you're doing a canal tour you'll travel the waters of "The River of Kings", the Chao Phraya, where you can see the rice barges and all the other crafts roaming the river. Views from here are great, especially at night.
There it is, my top 3. I'll be back in a few days with 4-7th place of the best of Bangkok.
Related articles:
People who read this also read: