Best of Bangkok, The Winning Eleven Part 2
Today I'm continuing the list of, what is in my opinion, the best of Bangkok has to offer.
4. Shopping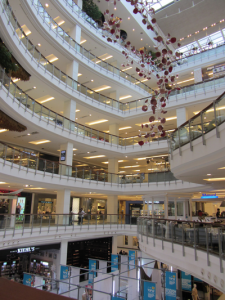 Personally I hate shopping, normally, but I like shopping in Bangkok. I'm not sure why, maybe because of the prices.
Bangkok has the best selection and often the best prices in Thailand, well at least compared to other places that tourists frequent. My recommendation is to do your shopping here before (or preferably) after traveling to other parts of the country.
The best deals to be had is in the outdoor markets. They are everywhere. The most famous ones are Chatuchak Weekend Market, Pratunam and Suan Lum Night Bazaar. Because of tourism however the prices are rising fast. Smaller local markets are cheaper and less crowded but they lack the selection.
The other option is the shopping malls. Bangkok shopping malls is packed with all kinds of malls, from ultra modern and outrageously priced malls selling designer goods to specialty malls only catering to one specific niche like Phantip Plaza. I guess I have to mention MBK here, a curious mix of a shopping mall and a market. MBK is very popular for tourists, but it's not my favorite though.
5. Wat Po
One of the largest temples in Thailand and one of the oldest in Bangkok, Wat Po houses over 1,000 Buddha images and  also houses the 46 meter long and 15 meter high gold covered Reclining Buddha. It's enormous! You'll never forget the sight, I promise.
Wat Po is also a great place to come if you want to study Thai massage or meditation. The massage and meditation school here is the oldest in Bangkok and the teachers here are masters of their craft.
This often overlooked pearl on the outskirts of Bangkok is my favorite place to chill out for the day. Imagine a sea in Bangkok, wonderful. To clarify, it's not a real sea. It's man made with painted concrete and a gigantic pool with waves. The wave pool is the largest in the world according to Guinness Book of Records.
I think in many ways that it's better than the sea, there's no sand and no salt water.
They also have an amusement park and a theme park. They are not great but they have the essentials. It's great for kids though. And it's not crowded, even on weekends, so there's not much waiting in line. First work up a sweat trying out the rides. Then hop in the water to cool off. Love it!
7. Nightlife
Many people come to Bangkok for the nightlife, and quite a few of those for the shady kind. But Bangkok has so much more than go-go bars and sex shows. You can find all kinds of bars and night clubs here. And if you venture outside the tourist areas the prices drops significantly and in my opinion the atmosphere gets much better. Thai people are very social and with a few drinks in them their English gets pretty good, strange my Thai gets much better too after a few shots of whiskey.
Well, there you have it. Places 4-7. I'll be back yet again with the conclusion of the list after the weekend.
Related articles:
People who read this also read: