Best of Bangkok, The Winning Eleven Part 3
Back again with the last part of the Best of Bangkok Series. I hope you enjoy it, I certainly have in creating it. It has made me think about why I love Bangkok so much. The order in the list isn't necessarily correct, I change my mind according to how I'm feeling at the moment.
8. Chinatown, Yaowarat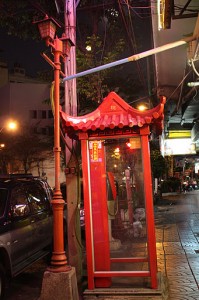 Chinatown is full of street side restaurants, market stalls, Chinese medicine stores and jewelry stores. Chinatown is as old as Bangkok itself. It was the first commercial center in the city and trade is still brisk today.
The signs are in both Thai and Chinese so you'll definitely know when you have entered the area. Chinatown is very popular with tourists, but at the same time the area remains non-touristy.
The best time of the year to visit is during the Chinese New Year and the Vegetarian Festival in October. At those times they close down the streets and have parades, food fairs and other festivities.
 9. Wat Traimit, Temple of the Golden Buddha
There are many temples on this list, but I can't exclude this one. Wat Traimit contains a Buddha image that is 3 meters tall, weighs over 5 tons, and is made of solid gold!
The story of the Golden Buddha is also a fascinating one. Want to know more? Read the story of the Golden Buddha.

10. Movie Theaters
I love going to movies in Bangkok. The movie theaters are usually located on the upper floors of shopping malls. The standard is very good with wide seats, great picture and sound. The tickets are also inexpensive. And, I don't know why, but the movies come out faster in Thailand than in most other countries.
They even have movie theaters where you can have wide, fully reclineable seats or couches, where you can order food, wine and more. It's just like a home movie theater except that you also have people catering to your needs.
11. Thai hospitality
I have problems limiting this list to 11 things. I could have listed Floating Markets, Lumphini Park or a myriad of other things. However I have chosen Thai people and their well known hospitality as the last thing on my list. Even though I had planned at the beginning to list sights and things to do in Bangkok, I did say "the best it has to offer" so… Thai hospitality should have been at the top of the list so I feel that I have to mention it.
You can feel the Thai hospitality the moment you set foot on the plane coming to Thailand (provided you fly Thai Airways of course). And I think it's because of the warm and friendly people that many come back again and again.
Well, there you have it. My Bangkok's Winning Eleven.
Related articles:
People who read this also read: