Buddha's Left Footprint at Wat Phra Phuttha Bat
Saraburi province is about an hour's drive north of Bangkok. There are many worthwhile sights and activities for travelers wanting to see and do more than the tourist hot spots in this region. We will cover more of these in the near future but today we will explore the most famous attraction in Saraburi, Buddha's Left Footprint at Wat Phra Phuttha Bat.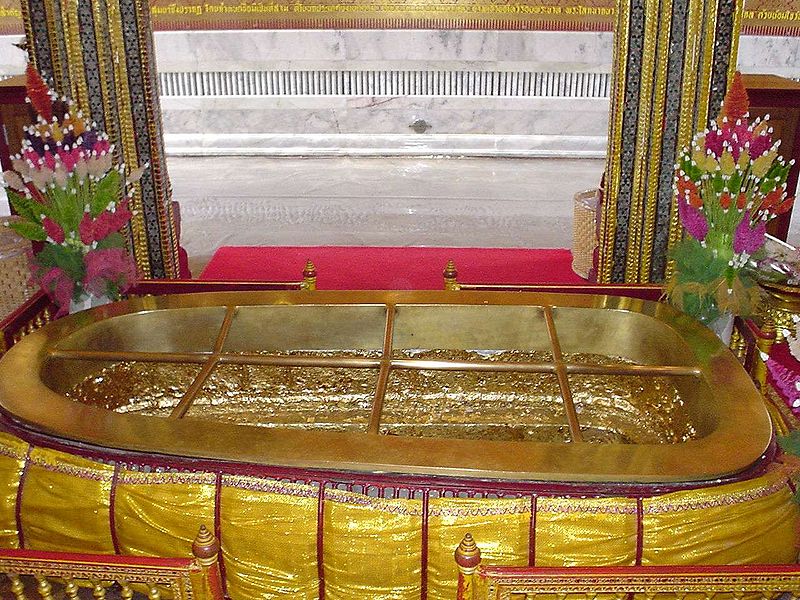 Wat Phra Phuttha Bat is considered to be the most important pilgrimage site in central Thailand. Wat Phra Phuttha Bat is also one of the most beautiful religious sites in all of Thailand.
The Buddha's Footprint measures 53 cm wide, 1,5 m long, and 28 cm deep. The footprint was discovered during the reign of King Song Tham of Ayutthaya. He commanded a Mondop built to house the footprint and it has been renovated a few times.
The stair leading up to the Mondop is symbolically divided into 3 paths , silver, gold and crystal. The parhs are decorated with Naga figures, each with 5 heads and their long bodies form the rail.
There is an annual festival of paying homage to the Buddha's Footprint. It has been celebrated since the Ayutthaya period and is held between February and March. During the festival the temple opens daily from 6.00-19.00, and at this time of the year Buddhists flock to the temple from all around the world.
Outside the temple the Phra Phutthabat National Museum is located. The museum houses various artifacts including King Song Tham's clothing, porcelain, bronzeware, old weapons, and a replica of the Buddha's footprint among other things.
Going there? You can rent a car and driver to take you there.
Related Articles
People who read this also read: