Happy New Year!
Happy New Year! The temple has been keeping my head nodding to traditional Thai music and it sounded like a war zone with people setting off fireworks last night. I can only imagine what the city is going to be like when the sun sets tonight, New Year's Eve.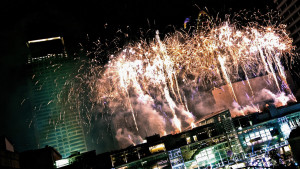 So what to do with the first few weeks of the baby 2015? Let's take a look at the calendar….
Through the end of February there is a cool space flight exhibition near Chatuchak. More than 400 bits of space stuff like old equipment, vehicles and space suits from the American and Russian space programs, several different simulators that let people who climb in "feel the Gs", and lots of really cool photo ops to jump on. There is a special set that creates the optical illusion of 0 Gs for a photograph (it looks like you're floating through the air) and you can even get into a space suit for photo. And being right nest to the world's largest weekend market, it will make a great addition to a full day trip. The exhibit is open 7 days a week from 10 a.m. – 9 p.m. and tickets are only 400 baht for adults and 250 for children during the week and 500/350 on the weekend. Contact us for additional details.
And of course I have to mention the second new year we will celebrate in just a few short weeks, the Chinese New Year, which will arrive during the last few days of January. So don't put the fireworks away and start figuring out who you'll have to give ang pao to, because we're just getting started in the town where every day is a holiday.
With our best wishes for a happy, healthy, and interesting 2015…
People who read this also read: