High End Transit in Thailand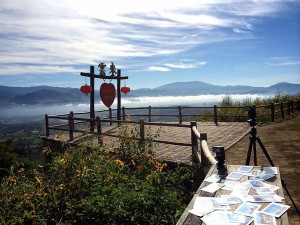 I was recently told about a special line of tourist trains that run to from Bangkok to Chiang Mai, Hua Hin, Kanchanaburi, and a few other popular tourist destinations. I was told that the food service on this train was the highlight of an entire day trip to Kanchanaburi, with samplings from Thai food of all the different regions.
This is the exception to the rule. Seat in Coach, SIC, is usually only as pleasant as the attitude you bring to the table with you, and even then you're pushing your luck. At least I am whenever I book seats in coach; I get uncomfortable fast and I have a short fuse for glitches in service.
As I age, rather like a bottle of wine left uncorked on the shelf, I find I prefer enlisting the services of sharp private drivers. By doing this I eliminate so many of the tiny coincidental frustrations that travel invariably leads to.
A knowledgeable driver who is fluent in English can communicate everything that is going throughout the trip. One of the most infuriating things is when the people running the bus or train or whatever refuse to explain the reason for a delay. What's more, this sort of communication and the fact that it's only you, your group and the driver means that you can change course at any given point if all signs are pointing to hold ups.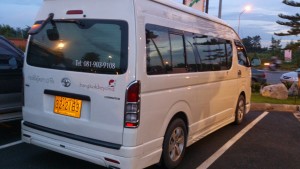 But hey, hold ups happen, and sometimes you get stuck on the road for a while. When this happens it is so nice not being stuck in a van or bus in coach. There is no feeling more satisfying than telling the driver to stop at the next gas station, and that is followed closely by the feeling of buying grilled pork and milky tea after visiting the WC, before you were in unbearable pain from the wait.
The rant would bring itself back to the issue of succor at this point, and what is usually lacking when one rides in coach. With the exception of the tourist trains (and this is still just hearsay) SIC food is less than delicious. A good driver who has been guiding people around Bangkok for decades will know where to eat, and where else to eat too. They can talk to you about your tastes and suggest restaurants that are convenient to the sites or destinations you have on your itinerary. And with advanced booking we can make those suggestions in advance, giving you time to mull them over with your group.
I could go on, and I'm sure I will soon, and the point will remain that there is no other way to travel than with a private car or van with a driver you can talk to.
People who read this also read: