Kraphong Fish – Fried Fish with Sauce
Thai cuisine wants not for delectable preparations of fish, but this should come as no surprise for a country that has so much coastline and endless inland waterways. Fish and seafood are fundamental parts of Thai cuisine from the bottom to the top.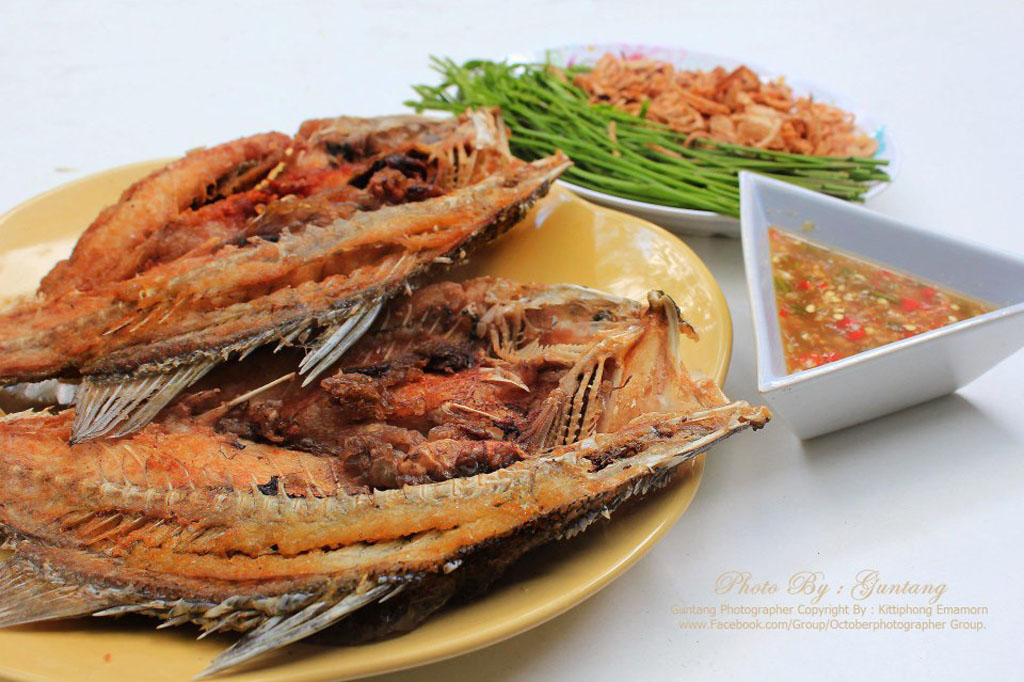 Take for example the absolutely essential Thai staple fish sauce. This salty syrup of fermented anchovies is part of essentially every dish served in the Kingdom of Thailand. That's fundamental.
Other examples of fish based sauces abound, but one of my favorites – and by far one of the most robust in flavor – is that which is pictured to the right of that lovely plate of fish in the picture. Shrimp paste (which also contains fish sauce) is a mixture of chili, spices, and fermented shrimp. The flavor is powerful beyond comparison, with a heady punch and spiciness that will remind you of exactly how alive you are.
It is a standard compliment to fried fish dishes such as the one pictured, as well as to steamed vegetables and omelets. And let me tell you, with a good spoonful of fish paste on your eggs you won't need any coffee to wake up in the morning.
Now, if you aren't used to whole fried fish, don't panic. There is a very easy technique to pull the meat away from the bones and if it's fried properly you'll hardly notice that they're there. Just use the edge of your  spoon to insert under the meat close to the center of the fish and gently peal it back and away from the bone towards the outside edges of the fish.
It's as easy as eating a filet once you get the hang of it; and it tastes so good you'll want to get the hang of it.
Note: This lovely picture was one of the winner of our Thailand Wonders photo contest. The picture is taken by Kittiphong Emamorn.

People who read this also read: