Little Arabia in Bangkok
Bangkok is a buzzing international crossroad. People from every corner of the globe find themselves here for one reason or another, whether they are just passing through or looking to stick around for a while. Untold numbers of businesses depend on the city in countless ways – from sales and acquisitions to its simply being a critical logistical weigh station, and all things in between. This town is right on the jugular of SEA.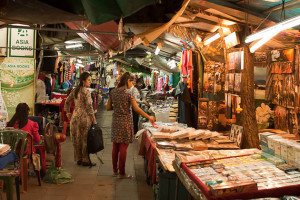 Like other cities that see so much transience, it has developed a number of distinctive ethnic enclaves. The Chinese New Year hitting at the end of this month, lots of people are probably reading up on and planning to visit Chinatown. Chinatown is definitely cool, and definitely the place to see all the New Year excitement, but it's not the only area of it's sort.
Little Arabia in Bangkok is always a cool place to hang out, particularly for a meal. That's why I usually head that way. Around Nana Soi 3, it is so made over in the image of its occupants you might forget momentarily where you are. Kebab and falafel shops line the street, many women are in full covering, and there are lots of middle eastern people speaking various middle eastern languages.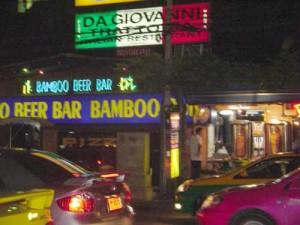 Right on the corner at the intersection is a place called Bamboo. I'm not sure if it ever closes, but if it does it does so very, very, very late. Beautiful Lebanese fair, lots of hummus and breads and kebab and bean things, a large selection of Russian foods, and…… I want to give the anticipation a second to build here….. some of the finest pizza in the big mango. And they sell by the slice, which makes my knees go week just typing it. The melanzane pizza (fried eggplant) is killer and all of their seafood pies will knock you flat. They also deliver within a limited range, if you're reading this in your hotel room and don't feel like going out.
Across the street from there is a little soi that wraps through a number of shops selling really ornate tea cups and dishes, leather shoes and sandals, imported fashion, and bunch of excellent middle eastern restaurants.
All of the actual stuff there is worth the trip, but what really makes Little Arabia in Bangkok so cool is the juxtaposition of it. Turn a corner and halal restaurants that don't serve alcohol and modest women are quickly replaced by all the wildness that is Nana, where the women are not always so modest and alcohol rises up from springs in the cracked pavement. Ladies in full burqas in the same frame as ladyboys in clingwrap. Amazing Thailand, oh friends and neighbors, amazing Thailand.
People who read this also read: