Loi Krathong Dinner Cruise
Loi Krathong is one of the most magical holidays celebrated in Thailand. The visual spectacle is approached in impressiveness only by the fireworks on the King's birthday as seen from the top of a tall building somewhere in Bangkok. The calm yet powerfully charged ceremony of launching the beautifully arranged krathong into water is a fantastic counterpoint to some of the more raucous holiday's that foreign travelers often seek to take in.

This year in Bangkok the holiday will be celebrated as scheduled (despite some reports that came out late last month to the contrary). But Bangkok is a big city and most people are celebrating the holiday, and they can't all be doing it in the same place (there are just too many of us here). So where should you go to take in the sights, sounds, tastes and smells of Loi Kratong in Bangkok?
Let's start with easy. Almost any lake, pond or large khlong around the city will see people congregating with their ornate and lovingly crafted krathongs. This means some of your popular parks with lakes like Lumphini and Benjasiri are great places to check out. Because of their size and the guarantee that they will see plenty of visitors, those places are also sure to be flush with fantastic foods both everyday and specially contrived for the holidays festivities. Older, more traditional dishes, especially desserts, are a very popular fixture of the holiday and something worth looking into while you're waiting for your krathong to drift out of sight.
It might be a good place to add that if your krathong drifts out of sight before the candle goes out it is often interpreted to be an omen of a coming year to be marked by abundant good fortune. Something to think about.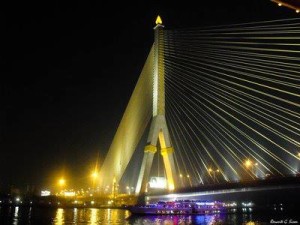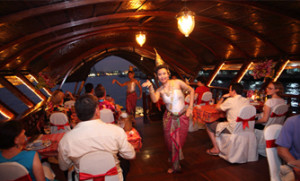 Of course the biggest body of moving water in the city is usually the host to some of the most impressive activity. The Chao Phraya is sure to look as though the water itself has been set ablaze before the night is over. Saphan Taksin (Taksin Bridge) is a good place to head if you want to launch your krathong into the river and send your bad vibes straight out into the gulf.
And here we introduce this month's thing-to-do in Bangkok……
Saphan Taksin is also where you would go if you wanted to take a dinner cruise on the river. And, with a beautiful light festival underway that might be just the sort of thing you want to do. In fact, one tour in particular provides krathongs for guest of the ship so that they can launch as well watch while they wine and dine their way down the mighty mae nam that is the Chao Phraya.
One of the most significant holidays in Thailand, Loi Krathong is filled with culture and history. Special holiday music will be playing in the malls and grocery stores, people will be in a better mood, and you won't have to look too hard at all to find the material and the place to pay your respects to the river goddess or to unload a year's worth of built up negativity!
People who read this also read: