Loy Krathong: River Cruises and Alien Invasions
Loy Krathong is upon us again, and I'm excited. Yipeng came into my radar last year, and I thought it was fantastic. What a beautiful compliment to lanterns that light up the waters, to set the sky ablaze. So throughout this past year my ears have pricked up at the mention of the things or anything like them, and so it is that I came to hear of their popularity, at least in the United States, as a sort of novel amusement.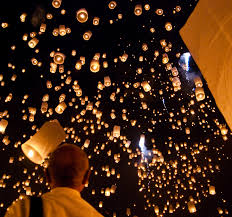 Here's the cool part, they are being mistaken for UFOs on a fairly regular basis. I reviewed my memories of the sights of Loy Krathong with this new filter in place, seeing the lamps as though I had know idea what they were, where they had come from and with the assumption that they might be spaceships. Fun spin, I'll play with it while I watch this skies next week – watch the alien armada retreat from the gathered masses of happy humans. We'll grin em' down.
One of the best ways to take in the festival is on a river cruise. You can launch your krathong down a special chute and watch it go zipping of onto the Chao Phraya and floating into the distance (you're supposed to keep watching it until it drifts out of sight, probably bad luck to do otherwise so don't look away). The Bangkok river cruise also has special holiday fare and the same great international dishes as usual, along with a solid international cover band and drinks.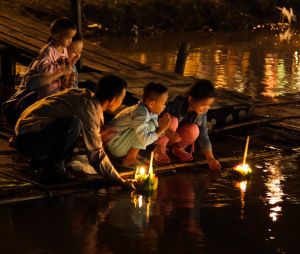 If you don't feel like getting fancy, and nobody can blame you for that, the holiday is big enough you'll get to experience it in whatever area you're in without too much effort. If you can find a clear patch of sky all you have to do is look up; rooftops are great for this. And you certainly don't have to be in the capital. There are celebrations all over the kingdom, with those in the north like Chiang Mai's being particularly fun with the massive yipeng launch.
Wherever you are, and however you enjoy your Loy Krathong, try and let some negative thing go (part of the holiday) and try to have a good couple of days. There are some serious holidays on the not too distant horizon, and this is one place that does not go half heartedly to a party. The cooler weather seems to excite the blood and the celebratory itch needs to be scratched so we'll definitely be having fun here, and I can only hope that you'll be able to join us!
People who read this also read: