Planes Trains and Automobiles of Thailand: Part 3
I started to outline some of the most prevalent forms of transit around Thailand in the first and second piece part of the series. So with planes, trains and coaches out of the way, and without any undue preamble, let us now explore vans, and private cars……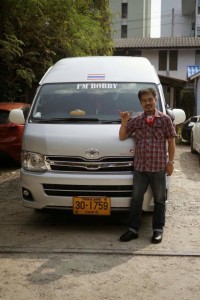 Private Vehicle – For most trips, this is the way to go. I don't recommend it for very long trips, all the way from one border to another or anything like this, but to get from Bangkok to Chonburi, Pattaya, Chanthaburi, Hua Hin, and many other exciting beachy locales within a few hours each other and back, it can't be beat.
Even more so, it is the best way to explore any particular region. Public transiting around a town or province will suck up the better part of any day. And while it is culturally edifying, it can leave a lot of unchecked boxes on your must do and see lists, as well as a number of muscular maladies.
It makes it easier to haul your stuff with you without literally having to haul your stuff with you. Bags are nice, and having things you think you might need with you is always a good idea. But wouldn't it be nicer to have left them in the car with the driver than to have them on your back and making your shirt sweatier than it needs to be? And if you feel like buying stuff you can do so with less apprehension as to how you'll get something back to the hotel room, or from the hotel to the airport, etc. This can be particularly important if you should come to desire some largish thing that would be heavy or bunglesome, and maybe completely inappropriate to drag onto a bus with you.
Finally, and probably most significantly, you have direct and exclusive access to the mind of the driver. With a driver who is fluent in English, and a local of the area you are exploring, you can ask questions as they occur to you, and get real answers. You can get information about different landmarks as you pass them or stop to investigate from somebody who has known them all their life. You can get recommendations on different things to eat, see, or do – and if you've got a good driver these will be suggestions that are not sponsored by the locations suggested. (Our drivers do NOT take kickbacks from places they might recommend. They recommend them because they actually like them and think they are good.)
If I keep going I'm likely to lose those of you haven't gotten off this windy ride I just tried to take you for already. And while I could go on for a very, very long time about this subject, I'll pass it for now to you guys and invite you to share your experiences with different sorts of transit around the kingdom with us and hopefully we can get a discussion going that will help anyone who is trying to plan their trip figure out what might work for them.
My perspective is, of course, fantastic, absolutely fantastic. But I definitely think that this is a very subjective subject, and could really use a number of different perspectives if we intend to create a full picture of it…..
People who read this also read: