Secret Shopping Siam: Bangkok After Midnight
Just as the sun pokes its head over the horizon, Bangkok comes alive with smells and sights that make the stomach growl and the mouth water. From the delectable moo bing grilled pork on a stick to quail with chives and fish sauce there is nothing that can't be acquired when it's time for the fast to be broken. But where does all of this food come from? These food stalls and carts obviously aren't equipped with refrigeration or really prepared for long term storage of any sort, so where is all of this stuff coming from at 6 in the morning?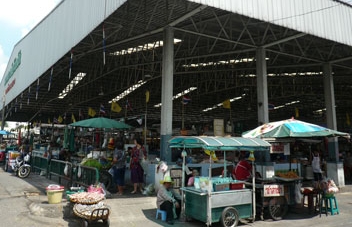 Turn back the clock a few more hours and enter the world of strong coffee and moonlit fresh markets. With most of these fresh markets opening at 2 or 3 am, the vendors dealing in breakfast come out then to get the things they will need to prepare their food that day. If you think about it this should banish a lot of fears about food freshness when you don't see the refrigeration – everything at the stall is purchased, prepared, sold and consumed within 12-20 hours.
These markets offer the most exhilarating shopping experience in Thailand, unless you have a hopeless addiction to fashion and electronics, if simply because of the atmosphere. There's something about being that active at that hour that makes me feel more alive at least.
Two of the best are Talad Sapan Song and Talad Bangkapi. Talad means market, Sapan is bridge and Song the Thai word for the number 2 – so 2nd bridge market. It's near Paolo Hospital on Ladprao, and any taxi driver should know it. Open around 2:30-3 it is a great place for fruits, vegetables, spices, dried goods, and meats of all kinds. Talad Bangkapi is across the street from the Mall Bangkapi; right next to Happy Land and keeps the same hours as Sapan Song. Any taxi driver worth his salt can get you there and it is one of the cheapest places in the city to buy fruit and meat.
If you get to the wee hour markets and realize you're not sure what to do with all of these spices, you can try the Thai Food and Cooking Tour where you'll get a week of intensive personalized tutelage in the fine art that is Thai cuisine.
People who read this also read: