Thai Cuisine and Culture: Boat Noodles – The Process
The secret of the soup (as I have only recently learned) is, drum roll please, blood. For a long time I wondered and delighted over the rich, heady broth that so gently cradled my rice noodles and herbs.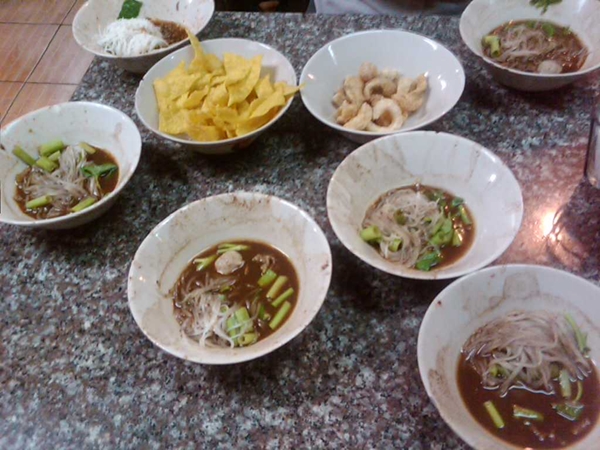 Here's what they do: the blood is poured into a ladle, filling it about half way. The ladle is then used to scoop up the soup broth and when the raw blood mixes with the hot soup the transformation takes place and the soup gets its dark burgundy color. Basil is used to mask the smell of the blood and the resultant reaction as it is poured lovingly into the serving bowls is transcendent.
This particular gem of Thai cuisine is traditionally served in small bowls, and most people usually have 2 or 3 servings (I'm big so I need even more). The soup usually contains some pork, some sausage, various herbs and vegetables, bean sprouts, some pork liver, chili, and is served with pork rinds, or cap moo, as a side dish to mix with the soup or munch – sort of like saltines with your tomato bisque. And unlike most other noodle soups you will be served in Thailand, this one is already completely seasoned so you will not usually have the little condiment caddy you get with bami, etc.
Like so much Thai cuisine, Guai Dtiaw Rua is quite literally steeped in history and seasoned with the love and lives of the people who lived and continue to live that history; it is one of the richest, most satisfying bowls of soup you will ever sit down to. One of the most famous places to get some served up in the traditional fashion in Bangkok now is around Victory Monument, but if you can get it served off a boat and eat it sitting on the dusty grass along a canal somewhere it will be well worth the trouble……
Read in our blog post about the history of Boat noodles.
For more info on Thai cuisine and Thai food culture check out our Thai Food and Cooking Tour!
People who read this also read: