Thailand Green Tea Powder
Macha (or Matcha) is the Japanese word for powdered green tea, and the most widely recognized name of this around the world. It actually came from China, but lost popularity there several hundred years ago. It was retained by the Japanese and became the main feature of the tea ceremony of that country.
Like so many other teas it has found a market niche as a healthy sort of thing to ingest, even as a means of losing weight. I won't go into this here but we'll instead enjoy the tea for the tea's sake, sufficing it to say that it's really, really good for you.
Thailand's north has been producing tea in earnest since the early 80's. Chiang Rai in particular produces sizeable quantities of high quality, Taiwanese style oolong, green tea, and maccha. The most widely available is from a company called Suwirun, which is based in Chiang Rai. They offer an extremely well priced, 100% certified organic macha powder. It's about 100 baht for 50 grams (that's a LOT of this stuff) and it has some excellent packaging too, this cool tin….
You can get it at a lot of shopping malls, specialty markets, etc. Paradise has an entire shop of their stuff on the first floor next to the Villa Market (across the hall from the royal projects farms shop, which is also very cool, great place to buy the lingzhi mushroom). There is a very sweet old man who runs it.
Some grocery stores have macha that is imported from Japan. This is always more expensive than the Thai stuff, and almost always has some sort of sweetener mixed in with it, making it useless for cooking. Stick with the local stuff that hasn't been adulterated.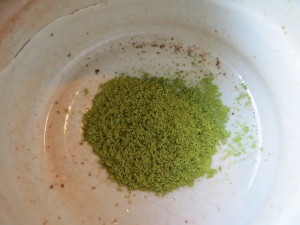 Here's what to do with it:
As a drink – it can be prepared hot or cold, has a vegetal sweetness but can stand sweetening. How much powder to how much water depends on taste, but I usually use about ¼ standard teaspoon to one normal coffee mug sized container, about 500 ml.. The Japanese beat it into the water with a bamboo whisk, but I usually just use a spoon or chopstick. If you whip it hard and long enough it will start to get creamy and frothy, this is really what is ideal, but it takes some practice and work.
I also drink it while I'm on the road or at the gym, etc. For this I will buy a 500 ml. bottle of water, take a sip, add about ¼ tsp of the powder, and shake it until it dissolves. Fresh, cold green tea in under a minute if you're a good shaker.
As a food – I don't have any recipes on hand but they are easy to find, and easy to make. I've done green tea sugar cookies and shortbread both a number of times, and they smell and taste great. The smell really stood out though, and on the one occasion when I cooked with guests that was the one thing they couldn't stop talking about.
7 cups to your health and happy travels!
People who read this also read: