Thailand Wonders Photo Contest 2013
Hi there! You might have seen the many wonderful photos taken all over Thailand shared in our photo contest last year (or the year before). If not go take a look: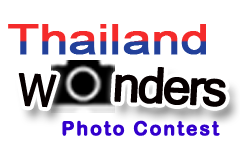 Wowtastic Thailand Photo Contest
and
Amaze Me Thailand Photo Contest
So we decided to continue supporting you in sharing your love for Thailand, through photos.
So, are you ready for more? We have a new contest planned for this year.
This year we will be running 6 photo contests with different themes. There are 2 winners for each round. So at the end of the year, we will have 12 winning photos that will make up a free downloadable calendar for next year.
In addition to the usual informal prizes the winners will get a 10% discount on all Bangkok Beyond Sightseeing and Package Tours. This discount is transferable and valid for 2 years.
The theme of the first contest is "Thai Foods and Celebrating Valentines in Thailand".
So find your best photos and submit them on: Thailand Wonders photo contest event. The submission period is February 1st – 15th. The voting period is February 1st – 17th.
To see the complete details of the contest go to: Thailand Wonders photo contest event

Our 2012 Wowtastic Thailand photo contest is already over. But, we have created a calendar with the 12 winning photos and you can download it for free to use on your computer. You can download it here: Thailand 2013 Calendar
People who read this also read: