Thailand's Tourist Sim Cards, Which One is the Best?
The Internet is your lifeline when it comes to traveling. A known life saver on the difficult situation while you are on the road. A place to sleep, good food around the corner and transportation can be easily found and book in your phone so a sim card with data is vital.
There are 3 major sim card providers in Thailand: True Move, DTAC and AIS.
Which is the best? Well, it depends.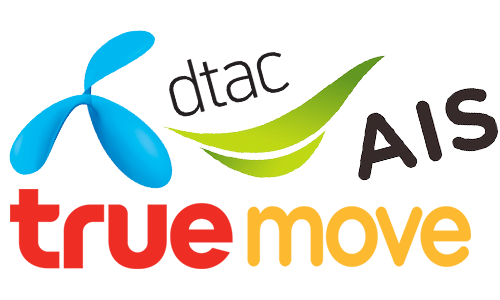 DTAC

If you are planning to go island hopping in Thailand and still want to be connected to the world then do not choose AIS. It can be hard to connect using their data in these places. DTAC is the SIM card you want for island hopping in the South of Thailand as they have the best coverage on islands.
AIS
For the fastest internet, you should get a SIM card of AIS, as their speed is by far the best. Although their internet speed is very fast, their 4G coverage is pretty much unreliable at times. But staying in places like Phuket or Samui, AIS can be your best bet.
True Move
This is our pick simply because it has the widest coverage of 4G/LTE in the country.
For traveling up north to places like Chiang Mai it only depends if you want to be connected to 4G or not. All providers have reliable coverage, though only True has a big 4G network and provide the best 4G coverage in Thailand.
To check their current promos and offerings:
www.truemoveh.truecorp.co.th/international_service/visit_thailand/en
www.dtac.co.th/en/prepaid/products/tourist-sim.html
www.ais.co.th/travellersim/
Where To Buy:
You can easily find it in the airports and 7Elevens
P. S.
Though still keep in mind that Thai mobile providers are constantly upgrading their coverage, changing their rates in providing better and faster internet.
People who read this also read: