Travelling Safe in Thailand: Scams and Strangers
Holidays, or any day really, in any country can get terribly out of hand and even ugly real fast if you aren't paying attention or don't know what to be watching for. Thailand, while in my honest opinion one of the safest, most navigable countries in the world and certainly in Southeast Asia, is no exception to this universal rule. From bad planning to bad food there are a lot of things that can go astray and cause distress; getting through it intact is a matter of avoidance AND response. Here are a few of my tips.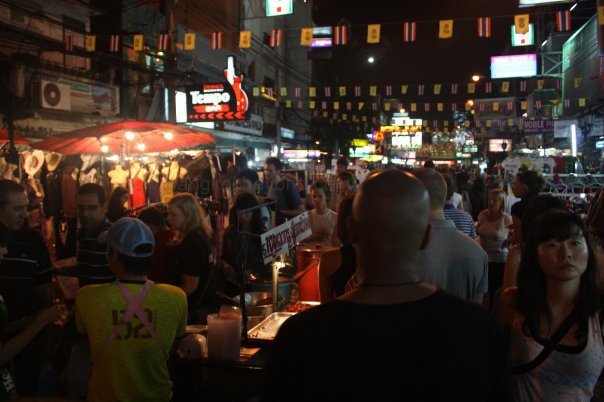 Avoiding scams, theft, and shady business –
Thailand is the land of smiles, and lots of people will grin at you if you give them an opportunity. This does not mean that they are your friends. It is easy, and it has happened to me, to get swept up in the sense that these friendly, gregarious people are all big-hearted and well-meaning. Turns out that they are people just like any other – lots of good ones and a handful of jerks.
What does this mean? Well, if you have to visit and spend time in places like Khao San road or Walking Street in Pattaya, you should assume everyone has a nefarious agenda. But more than just drinking areas, any place that sees heavy tourist traffic will have plenty of scam artists looking for a mark. Here are my rules for dealing with strangers compiled from personal run ins and experience and shared horror stories from fellow travelers:
Not all dangerous strangers are Thai. Some of the most dangerous scam artists and criminals targeting tourists are foreigners. They could be or claim to be from anywhere, and a tourist just like you, even look like you and speak your language.
Do not follow a stranger to a second location (especially hotels or private residences and if you are asked to get into a car)
Do not accept drinks from strangers and do not take drinks from glasses or bottles that you've left unattended. If you leave your drink on the table and go to the bathroom, buy a new one and throw the old out when you get back.
Minimize tuk-tuk usage in Bangkok. Tuk-tuks aren't particularly practical in Bangkok, unlike many of the northern provinces where they are the primary sort of taxi. They are here so tourists can enjoy the novelty. They are only to be found around tourist hubs in the city, the drivers will overcharge, and they will also try to take you to brothels, shady jewelry stores, or anywhere else they can get a commission. And if they decide to charge you a ridiculous fare or put you in a horrible situation, they aren't always licensed the same way taxis are and you don't really have any rights legally. If you do feel like you need the experience MAKE SURE you agree on the fare before you get into the thing.
DO NOT make any bets or agree to play cards with anyone. Gambling is illegal and Thailand and there is a common sort of scam (that I almost fell victim to once) that involves getting foreigners to participate in betting and then rob them (you can't tell the cops you were breaking the law). I'll post the story later this month, it's a good one.
Be extremely careful when renting motorcycles, jeeps, and ESPECIALLY JET SKIS when you visit the islands and beaches. Another common scam is to rent you the vehicle and claim you've damaged it when you get it back to them. This situation can be scary and dangerous, and depending on where you are you may or may not be able to get help from the police. I recommend renting vehicles from the guest house/resort where you are staying. Most rent at least motorbikes and the size and visibility of their businesses makes that kind fooling around less profitable and practical; and there's a good chance that they are just better people too.
This is the last one I'll put in this post, but by no means the least important. When you hire a motorcycle taxi (and you will), look into the driver's eyes and make sure they are clear and that his helmet is not too battered. Good idea to make sure he's not grinding his jaw either (that one applies to taxis of any sort). Some of these guys put in crazy hours and work multiple jobs. Methamphetamine was called "the hard working medicine" when it first came to Thailand. Now of course they call it "crazy medicine". I've had a lot of accidents in Thailand, but none of them involved a motorcycle.
Related Articles
People who read this also read: