Wat Saphan Floating Market
Taling Chan district sits off in the western corner of Bangkok; unassuming and quiet it two of the cities smaller and more charming floating markets – the Taling Chan and Wat Saphan Floating Markets. Both relatively new, Wat Saphan floating market is the newer and in a more interesting location.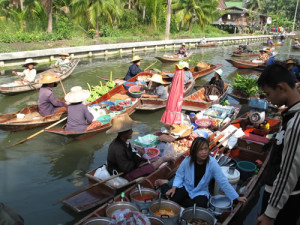 The area around Wat Saphan Floating Market used to be filled with orchards, and much of it still is, which makes for excellent fruit at the peak of freshness available in the market itself. There is more in to snack or sup on out on the water than fruit alone, though, with some of the finest traditional noodle soups anywhere in the kingdom and the usual spread of traditional sweets.
The market is actually in the khlong and campgrounds on the grounds of an ancient Buddhist temple that was destroyed by the Burmese army during the Ayutthaya period. The ruins of the temple are still visible today with some statues and architecture jutting up out of the underbrush, and the red brick wall that runs along the khlong which served as a fortification some 200 years ago. So there's actually more to look at around than there than just the market.
It's not as well known to tourists as the larger Damnoen Saduak, and for this reason is much calmer and more authentic. Only open on weekends and holidays, the market is definitely more of a leisure time destination for the people who live around there. They come out and snack, throw breadcrumbs into the writhing masses of well-fed fish, and enjoy the reminiscent break from their very modern lives.
For those who don't live near Wat Saphan Floating Market, it is worth noting that it is very close to Taling Chan floating market, making for an easy 2 in 1 day trip, plus the ancient temple. Makes crossing the river into the western lands an easier pill to swallow.
We've also listed other Bangkok floating markets that you want to visit.
People who read this also read: