Alcazar Show in Pattaya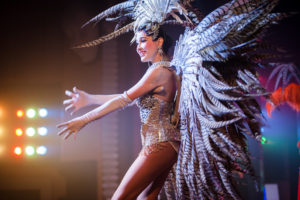 Ladyboy cabaret is to Thailand what opera is to Italy or ballet to Russia: a form of art which it has honed to perfection. Pattaya is world famous for these flamboyant ladyboy shows, and having been going for over 30 years, Alcazar Cabaret has earned the status of a local legend.
A full-scale theatrical event with state of the art sound and lighting, the 2-hour show features over 400 performers in stunning costumes and lavish sets. The whole thing is so glitzy and glamorous, it wouldn't look out of place in Las Vegas. The show, first opened in 1981, is now lovingly considered almost a national treasure in Pattaya, and attracts the best female impersonators from all over Thailand. No wonder it has remained one of Pattaya's top tourist attractions year after year.
The show itself is glamorous, colourful and fun. The performances include a blend of impersonation, comedy and drama, all of which is expertly put together by a very talented production team.  The music is an interesting blend of world cultures and styles; there's traditional Thai dance, Western music, K-pop and even a Bollywood number thrown in at the end!
The show is designed for everyone in the family to enjoy and will certainly leave a lasting impression.  You'll also get an opportunity to mingle with the performers before or after the show and have your picture taken with them. The performers are very happy to pose for photos, although there's a small charge so make sure to bring some change.
Details: Alcazar Cabaret show is located on Pattaya 2nd Road in North Pattaya. Shows are on daily at 06:30 p.m., 08:00 p.m. and 09:30 p.m.
People who read this also read: