Bangkok Canal Tour together with Wat Arun
Get on a long tail boat and go on a trip upon the Chao Phraya river, also called The River of Kings, and into the historic waterways of Bangkok. Visit Wat Arun, Temple of Dawn, for breathtaking shots.
Wat Arun is referred to as the Temple of Dawn due to the way it lights up just like white colored pearl in the morning sun.
Following that there is a choice between going to Jim Thompson House and Museum or Vimanmek Mansion.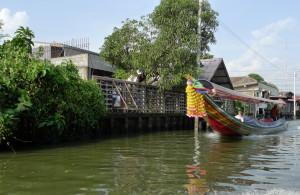 Getting on a boat and taking in the waterways of Bangkok is actually a wonderful break from the high temperature as well as traffic of the fast paced city. Here you will observe the way the majority of men and women once lived and the way a lot of the poor people of Bangkok dwell even now.
Jim Thompson was an American business man who helped rejuvenate the Thai silk industry. The house has been changed into a museum exhibiting his collection of Thai along with Asian artwork. Visit the museum in order to find out about his legacy.
Vimanmek Mansion is the world's biggest golden teakwood structure and also has been a former palace of the royal family. It is currently a museum exhibiting the private photographs, artwork as well as handicrafts of Rama V.
Entrance: 100 Baht
Opening Hours: 6:00am-6:00pm (Monday – Sunday)
Note that you will need to show your ticket to the attendant at the entrance to every building.
Also note that if you have visited the Grand Palace and kept you ticket you can show it for free entry.
People who read this also read: