Beat the Songkran heat: surprising seasonal tips
Spring comes has come to the northern hemisphere and the rains are coming to Bangkok. With festivals like Songkran and the excitingly dynamic weather it's a truly wonderful time to experience the kingdom. But to make sure you have as much laid back happy during your holiday as possible, here are a few tips from the trail…..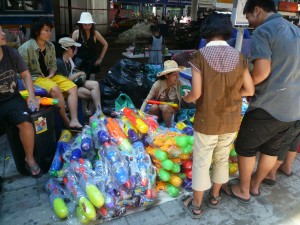 Footwear: Sandals are often ideal throughout the day during the rainy season as you don't end up walking around in wet socks, which isn't fun. Do be careful with sandals in flooded areas, though. At night time, however, sandals are a big problem. The mosquitoes are as thick as molasses on hot, steamy summer nights in the city and your feet are covered in delicious veins. I woke up one morning during Songkran years ago with an uncountable mass of itchy bumps all over my feet – the wages of a night of sandal drinking. Socks and sandals are no better. Closed shoes are a must if you're going to be out and about after dark during the rainy season.
Bang Yen: Cooling powders are common in Thailand, though none are as good as the original Snake Brand variety. Regardless of brand, cooling powder is an indispensable tool for the spring and summer traveler. In particular I find it useful while in transit, when a shower and change of clothes is not an option.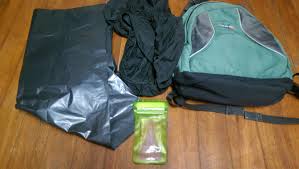 An occasional dusting under your shirt and around your neck during long rides in coach, on a train, trekking, or in anywhere else you might find yourself feeling somewhat less than fresh and with no other options. It's also effective for keeping you fresh and cool longer if you dust yourself immediately after showering. If you really need to cool down, apply the powder to wet skin. Careful though, that can be pretty intense.
Transportation: Depending on where you are in Bangkok (assuming that's where you are) and where you're going transportation might get sticky during a downpour. If you are traveling within the BTS or MRT zone it won't be much more than slippery, but if you need a taxi you might find yourself waiting in the rain. If you plan to be traveling outside the area that can be accessed by the skytrain or subway it's best to arrange for a car in advance. Let us know when you're planning to travel and we'll help you work out what might be best for you.
Electronics: Nearly everyone does this during Songkran, but I think it's a good idea throughout the rainy season – wrap your electronics up in plastic. Maybe your critical cards and paper too. Street vendors are starting already to sell the little plastic pouches for cellphones and money. There will be even more of these appearing as Songkran approaches. These are ideal for phones, passports, a little bit of cash, a card from your hotel, etc.
That's it! Stay cool, keep your feet dry, and take it easy!
People who read this also read: