Chiang Mai Flower Festival
This weekend Chiang Mai will host one of its most colorful and fragrant festivals, one of the most colorful and fragrant festivals in the world. The Chiang Mai Flower Festival is running from Friday-Monday February 9th, and is one of the coolest festivals anywhere in the country all year for decorative plant buffs.
The festival has been celebrating the agricultural traditions of the region, especially the flowers, for the last 38 years and has become a major event on the kingdom's celebratory calendar. In fact, over those last four decades, Chiang Mai has become a major hub for the export of fresh cut flowers, along with flowering and decorative plants like those cool bulbous, bonsai looking things with the super thick oily leaves.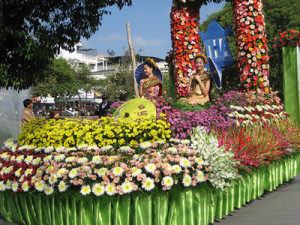 So much has the cultivation of flowers and flowering plants taken root that the arrangements on display this weekend are by no means limited to those made from flowers plucked from the fields. The countryside itself is blooming with a dizzying spectrum of color that will test your eyes' lenses and your mind's grip on visual reality. Pinks, purples, yellows, reds, blues and strange shades and tiger stripes and swirls and spots cascade down the long rolling slopes of the northern mountains like quilted blankets thrown out for a picnic in the sun.
The festival itself includes a beauty contest, a parade, many exhibitions and displays of flowers, exhibitions of traditional crafts of of the region, and of course lots of food and music (music shows from 9-11 in the Park and at Thapae Gate).
There will be workshops with fun activities like mini-garden landscaping (sounds like a great addition to some office or den space), a flower arrangement contest and exhibition, and essentially any other floral activity you could possibly imagine.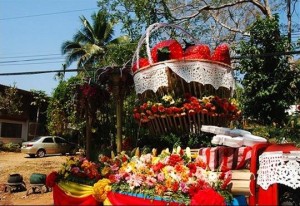 It's also worth noting that Chiang Mai and Chiang Rai are home to several very large and beautiful flower gardens, established and maintained by royal appointment. I've been to two, perhaps we'll revisit those places some day. AND this weekend also finds Chiang Mai hosting its annual strawberry and OTOP festival, which is the perfect accent to a flower festival and a really excellent way to celebrate and enjoy this beautiful time of year and the bounty and traditions of Northern Thailand.
You can have our rent driver service for going there!
People who read this also read: