Farm Chokchai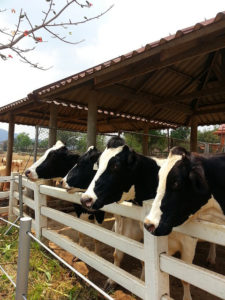 Occupying 100 acres of farmland in Nakhon Ratchasima province, Farm Chokchai is Thailand's biggest dairy farm and one of the biggest in Asia. Throughout its colourful history the farm has experimented with a number of different businesses ranging from supplying machinery, construction, raising beef cattle to operating steakhouses and exporting beef. In 1976 the cattle ranch was turned into a dairy farm with its own breed of dairy cattle, suited for producing milk in the tropical climate.
Today the farm is also a popular tourist attraction specialising in agricultural tours and educating Thai and foreign visitors about dairy farming. Visitors can take part in a guided tour, riding in a hay wagon around the farm, learning about different aspects of farming and participating in various activities.
The tour begins with a short film subtitled in English explaining the farm's history. After the film, visitors learn about the farm's breeding program and watch a hands-on demonstration of cows being milked. Kids will certainly enjoy being able to try it themselves too. This is followed by a demonstration of how fresh milk is processed and turned into delicious ice-cream.
After riding around the farm, guests will stop at a cute mock-Western style town to buy refreshments such as ice-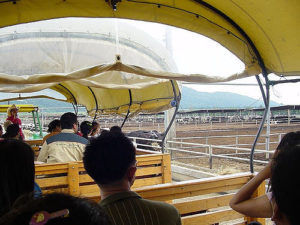 cream or ice-coffee, made with the farm's famous own brand Chokchai Umm!…. Milk. Here kids can ride a horse or a pony or take part in an ice-cream workshop. There is also a rodeo show with cowboys showing off some considerable lasso skills. Finally, the tour finishes at a petting zoo where children and adults have a chance to feed various animals such as calves, goats and deer fawns.
Chokchai Farm is a wonderful place to visit, particularly for families with children. The farm is located about 160 km from Bangkok and can be easily enjoyed as part of a day trip.  We can arrange discounted tickets, so let us know if you'd like to go.
People who read this also read: