Great Eats Chiang Mai
I recently visited Chiang Mai and had a delightful time up there. I love dining out so of course visiting some of the city's many, many great restaurants was part of the plan. Compared to Bangkok, Chiang Mai has a relatively laid-back restaurant scene, but the amount of available options is fantastic. And so I thought it would be a good idea share some of my favourites in this week's blog post.
Breakfast World and German Beer Garden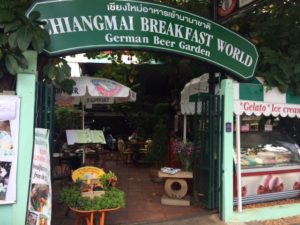 Tucked away in a small soi in Old Town, Breakfast World, as its name suggests, is the perfect place for an all-day breakfast or brunch. Run by a German-Thai couple, this lovely restaurant with a leafy garden area has an enormous menu with lots of variety.  Thai, American, English and various European breakfasts are all on the menu with delicious imported meats, cheeses and smoked salmon.
I opted for the German breakfast which consisted of scrambled eggs, bacon, three types of ham, cheese, a homemade bread roll, toast, jam, orange juice and coffee. The food was absolutely delicious, very good quality and there was lots of it! It's a little bit pricier than other breakfast places, but the ingredients are top quality, the service is excellent and the atmosphere very friendly and relaxed.
Ugo Bar & Restaurant
A relatively new arrival to Chiang Mai's restaurant scene, this restaurant was recommended to me by a friend. Straight away it piqued my interest, so of course I had to try it. Especially since the location is fantastic, bang in the middle of town, right by Thapae Gate.
The menu consists of various Thai and European dishes and considering how great the location is, I found it all very reasonably priced. The restaurant itself is divided into two sections: a street-facing outside bit with an astroturf floor and a small air conditioned section inside. It's all very tastefully decorated and the atmosphere is very relaxed and friendly. I had heard good things about the Thai food, but we were in the mood for something European so I decided to try their Caesar salad while my friend ordered the pita falafel (pictured). We also shared some onion rings and calamari and they were lovely. We were very happy with our food, loved the ambience and I already can't wait to go back to try some of their curries.
Franco-Thai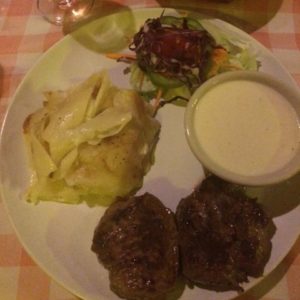 This lovely French restaurant was a really pleasant surprise and one of the culinary highlights of my trip. Hidden away in a dark soi, behind the Icon computer mall, this was another place that had been recommended to me by a friend. It may not be easy to find if you're unfamiliar with the area, but don't let that put you off. The restaurant itself is an absolute gem with a mostly French menu that is very, very good indeed and surprisingly inexpensive.
I tried the Thai steak because I had heard great things about it and was not disappointed. My dish came with a lovely potato gratin and a very generous serving of blue cheese sauce. The beef was beautifully cooked, juicy and tender. Other things you could try include cheese fondue as well as various pasta dishes and salads. With a fairly decent wine list too, I'm looking forward to visiting again the next time I'm in town!
People who read this also read: