Health Land Spa & Massage
If you've ever visited Bangkok, you'll know that Thai massage places are cheap and plentiful. In fact, there seems to be one around every corner. By exploring your local area, you can find fairly decent treatments almost anywhere. However, if you're looking for a more high-end experience, the good news is that when it comes to Thai massage, a luxury experience doesn't have to come with a luxury price tag.
I recently visited Health Land Spa & Massage in Asoke. Health Land is a well-established, almost luxurious day spa where you can get a range of health and beauty treatments in beautiful surroundings for a very reasonable price. There is a wide range of treatments available from traditional Thai massage to reflexology, aromatherapy and herbal compress, as well as body scrub and facial treatments. You can choose to pay for individual treatments or go for a package. I chose a 2-hour Thai massage (550 thb) while my friend went for a 1-hour foot reflexology massage (350 thb).
The Asoke branch features a very pleasing interior and a relaxed ambience that makes you feel like you've walked into an oasis of calm and beauty from the hustle and bustle of Bangkok's streets. After a 15-minute wait the receptionist called us, and we were taken to our spotlessly clean treatment rooms and given loose-fitting clothing to change into. The service was very professional, very friendly, and the staff understood English.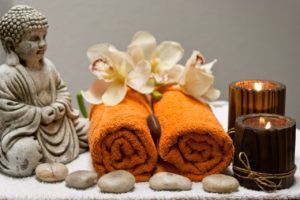 I found my treatment very relaxing, so much in fact that I almost fell asleep at one point. Having said that, there were times when the massage lady did apply a good amount of pressure (I'm a bit of a wuss when it comes to these things and had asked for light pressure) and sometimes it was slightly painful, which I know a Thai massage is supposed to be. But I suppose it's the good kind of pain, as she did manage to get rid of a lot of knots on my back and shoulders. I'm not an expert on Thai massage, but she seemed to know what she was doing. Afterwards I tipped my masseuse and returned to the lobby where I was given a cup of hot ginger tea.
My friend was also satisfied with her foot massage, and we walked out feeling refreshed and invigorated, ready to face the chaos that is rush-hour traffic in Bangkok.
Some people complain that Health Land can feel a bit like a fast food version of a day spa. It's also possible that with large numbers of staff there may be therapists with different experience levels, and your experience depends on who you happen to get. I had no complaints regarding my experience, however, and would definitely go again.
Health Land have 8 locations around Bangkok, so it should be easy to find one nearby. A reservation is highly recommended, as it tends to get busy, especially the Asoke branch which is very popular with tourists.
People who read this also read: