Hua Hin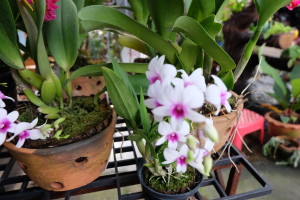 Hua Hin is a great alternative to Pattaya or Koh Chang, being only about a 2 ½ hour drive from Bangkok. What's more, the road between Bangkok and Hua Hin is dotted with excellent attractions like (floating market), an orchid farm/wholesale crockery/seafood market, more factory outlets than I was able to count, and a water park called Santorini.
Hua Hin has more of a unique flavor than Pattaya, too. It is a hub for artistry and creativity in the kingdom, with jazz festivals, art walks, interesting sculpture all over the place, and artists of more disciplines than even a fellow artist such as myself was aware existed.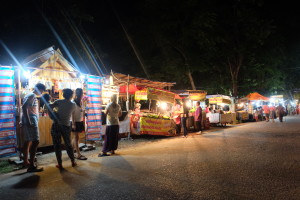 I stayed in the area known as (area) at a tiny little resort called Baan Duangkaew, in a very airy and well appointed bungalow between the two pools. (Every bungalow is right beside a pool, mine was next to two; blind luck.) But even more exciting is what I discovered on my way to dinner that evening.
We got in the car and were heading out to find some dinner, and not 20 yards from the resort we came upon the Cicada Market which offered up lots of the two best things in life – food and art. But a picture is worth a thousand words, so I'll shut up now.
Contact us if you'd like any more info on the different areas of Hua Hin and all the fantastic cultural events that it hosts.
People who read this also read: