Loy Nava Dinner Cruise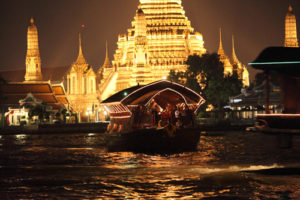 A cruise on the Chao Phraya river is a fantastic way to experience Bangkok, and something all visitors should try to experience at least once in my opinion.  We've already talked about this in last week's post of course, but here I thought I would give you a quick introduction to another operator if you should fancy an evening on the river.
With the Loy Nava Dinner Cruise, you get to take a journey on a beautiful teakwood Thai barge boat complete with a 5 star dining and Thai cultural experience. The story goes that many decades ago an American engineer named Botter Reeves working in Bangkok was asked to entertain some visiting executives, so he hired an old rice barge, arranged for food on board and improvised a dinner cruise.
The cruise was a huge success, so Reeves eventually set out to build a full-time business around the concept. He converted an old rice barge into a luxurious river boat and commenced his river cruising business. That same boat remains in business today, and although numerous refinements have taken place over the years, it still maintains every inch of its authentic character and charm.
There are two dinner cruises daily, with the Sunset Cruise departing at 6pm and the Bangkok At Night Cruise at 8.10pm. It's a great way to see some of the city's most famous landmarks including The Grand Palace and The Temple of The Emerald Buddha, Wat Arun (The Temple of Dawn), Wat Pho and many more. A Thai style dinner is served on board with optional drinks packages available.
The Loy Nava Dinner Cruise is the only way to experience Bangkok on an authentic antique rice barge and has excellent reviews on Tripadvisor. Contact Bangkok Beyond for further information and bookings including transfers to and from your hotel.
People who read this also read: