Nong Nooch Tropical Botanical Garden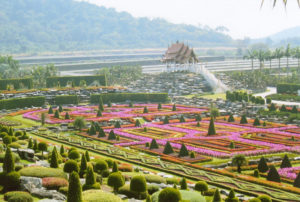 Nong Nooch is the largest botanical garden in Southeast Asia and a leading tourist attraction around Pattaya. The gardens is set over 600 acres of land and was originally used as a plantation to grow tropical fruits such as mango and orange as well as coconuts. Later on it was turned into a landscaped flower garden, and was opened to visitors in 1980.
You could easily spend a whole day here, strolling through the vast area, enjoying all the breath-taking beauty on display. Some of the many highlights include:
French Garden
This ambitious 17th Century French garden with its intricate, symmetrical design was inspired by the garden of Versailles and is intriguingly set against a backdrop of Thai temples.
Orchid Garden
Over 600 different varieties of orchid from around the world are on display in this exquisitely presented nursery.
Cactus Garden
It's certainly unusual seeing wild cactuses in a country as humid as Thailand, but Nong Nooch has succeeded in growing hundreds of different species of cactuses and other succulent plants here.
Stonehenge Garden
A geometrical garden with painstakingly arranged stone features dedicated to the famous landmark in England.
Tropical Palm Garden
A fantastic collection of rare and unique palm trees including Asian, New Caledonian and American palm trees can be found here along with a large collection of cycads.
Randomly, there is also a section called "Car Garden", an area dedicated entirely to showcasing a variety of sports cars. But hey, this is Thailand and you learn to expect the unexpected. A cultural show with traditional Thai dancing, elephant riding and shows are also featured. I'm not a big fan of animal shows for reasons discussed before on this blog, but they are obviously a very big tourist magnet and as long as tourists continue to pay to see them, the shows will go on.
Nong Nooch Botanical Gardens is located near Pattaya, approximately 160 km southeast of Bangkok.
We can take you there and/or get discounted tickets for you. Contact us for tickets and for more information.
People who read this also read: