Som Tam Nua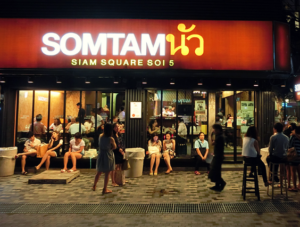 Thai green papaya salad, or som tam, is a delicious dish that originated in the Isaan region in northeastern Thailand. Today it can be found in restaurants and food stalls throughout the country. Tangy, spicy and crunchy, it's perfect on its own or as a side dish to complement a Thai curry.
Som Tam Nua is a popular, trendy restaurant in Siam Square that has garnered a reputation for tasty som tam and other Isaan dishes. The spacious restaurant often gets very busy with big local crowds who are happy to queue up outside and wait for their turn for seats.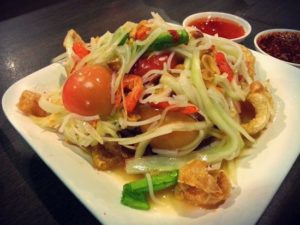 Here they specialise in different variations of som tam with different levels of spiciness ranging from one to three chillies. Som tam with dry shrimp and peanut (also known as som tam Thai) is the classic version. The basic recipe includes crunchy green papaya, green beans, tomatoes and onion, pounded together with chillies, lime, fish sauce, palm sugar, shrimp paste, dried shrimp and peanuts. With two chillies it's spicy like it should be, but not overwhelmingly so.
For a slightly milder version, you could try the excellent som tam with salted egg or som tam with Thai pork sausage and crispy pork rind (make sure to point out you want it mild because they also have a variation with three chilies). Or if you are feeling more adventurous, you could try som tam with salted crab (also known as som tam poo), a very spicy dish that comes with a whole salted sea crab.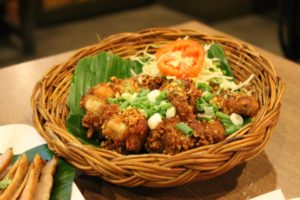 Other notable dishes on the menu include hot and spicy crispy fish and fried chicken. The fish, as its name suggests, is fried crispy and garnished with chillies, herbs, red onions and mint leaves. The chicken wings are lightly battered and crispy on the outside, soft and juicy on the inside and are really excellent indeed. Other things on the menu include fried northeastern style sausages; larb, which is minced pork mixed with onions, chillies and herbs; Thai pork sausages and BBQ pork shoulder.
If you're in central Bangkok, and looking for som tam or Isaan food, Som Tam Nua is an excellent choice. It's usually packed full of local people too, which is always a good sign.
People who read this also read: