Sompong Thai Cooking School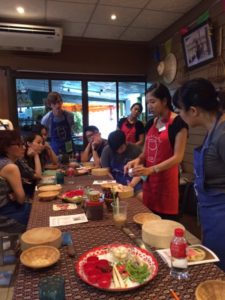 Last week I decided it was time to brush up on my culinary skills, so I signed up for a half-day cooking class at the fantastic Sompong Thai Cooking School. I had heard good things about this family-run cooking school, which is situated on Silom Road near central Bangkok.
Being far from a domestic goddess I admit feeling a bit nervous as I stepped off the BTS at Chong Nonsi Station. With only a vague idea of where I would be headed, I entered the school's address into Google maps as I climbed down the stairs and onto the street. It turns out I didn't need a map as I was immediately greeted by a person wearing a red apron that read 'Sompong Cooking School'. You see, this is where the school sends its staff every morning to meet and greet students and whisk them off to the school, which is located only a short drive away.
Any initial anxiety I may have experienced dissipated almost as soon as I entered the classroom. I was introduced to my fellow students who came from various countries all over the world and turned out to be a very friendly bunch. There were about 20 us, but we were split into groups of three, with each group having their own table and an instructor, so it never felt at all crowded.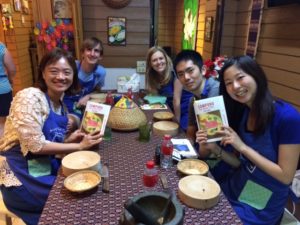 We began the class by following our instructor to the local market where he showed us all the different ingredients we would need for cooking today's menu, explaining the different varieties of vegetables and herbs used in Thai cooking so we would know where and how to buy them for ourselves in the future.
Then it was back to the classroom and time to begin cooking. In each lesson you create a four-course menu, which changes slightly depending on the day of the week. The daily menu is available on the website, which is handy so you can even choose to book on a day that features your favourite dish. My course was on a Saturday, so we made a red curry with pineapple, stir-fried spicy chicken (pad kra paow gai), a spicy Thai omelette with herbs as well as one of my all-time favourite desserts, mango and sticky rice.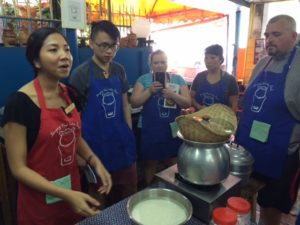 The teachers at the school are fantastic! Our primary teacher was a lady called Irin who was assisted by a team of instructors helping to look after the students at each table. Irin and her team all spoke excellent English and their warmth and sense of humour made the lesson a very special experience indeed.
One thing you notice very quickly is how very well organised the school is. Even with quite a large number of students, the staff were on hand to assist at every stage if you needed help. Even when somebody (it may have been me) stabbed themselves in the hand in the middle of chopping vegetables, the staff were very quick to deliver a bottle of first aid solution and a band-aid. There was no lecture, no 'I told you so' (even though they had told us so) and the lesson swiftly went ahead without any further ado.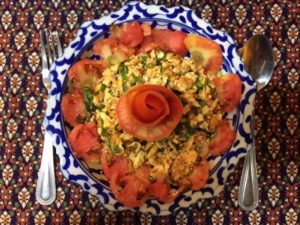 And in the end, even a bit of a disaster in the kitchen like myself had managed to create a number of delicious dishes that not only tasted great, but looked very presentable too! Finally, it was time to tuck in and enjoy all that lovely food we had cooked. The free recipe book you get to take home is a nice touch too, should you want to impress your family and friends with all these newly learned skills.
I had a really lovely time at the school, and can't recommend it enough to anyone interested in learning about Thai cooking. Bangkok Beyond can now offer discounted tickets too, so please let us know if you'd be interested in joining this class.
People who read this also read: