Traffic and Torrent – Hire a Driver in Bangkok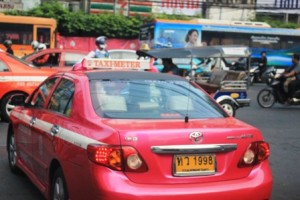 There are a lot of different ways to get around Bangkok; one of the interesting things about the city really, all the different sorts of public and private conveyance. There are speed boats through canals, taxis, motor bikes, tuk-tuks, minivans, buses, subways, and skytrains. But the canals stink, taxis can be difficult to catch, buses can be crowded and hard to catch or get off of, motor bikes can be scary and dangerous, tuk-tuks gouge prices, and there really isn't anything at all wrong with the subways or sky trains except the occasional crowds.
And while that is all interesting, exciting, and enlightening, it can put a lot of unnecessary strain on a family or group holiday. Ultimately the best way to see the city is in a private car, at your ease and leisure. No dragging bags and herding children through crowded intersections, no frantic head counts at transit stations. To cruise in comfort to your destinations with your traveling companions and one of our outgoing English speaking drivers is a true luxury and a guaranteed way to have a full, fantastic and relaxed experience.
And of course there is the one particularly big advantage afforded by some private wheels this time of year, and that's avoidance of the taxi-rain crisis. If you've tried to hail a cab in the rain in Bangkok, you'll know what I'm talking about. If you haven't, then it's too bad you haven't spent enough time here to have enjoyed that particularly soul crushing experience. Ultimately rain is usually not a big deal in the city, and it almost never lasts for too terribly long. But for that 15 minutes, or hour, or even two, all the taxi drivers seem to be hell-bent on going anywhere other than wherever it is any potential passenger might be heading. On top of this the total number or cabs on the road is mysteriously decimated, with only a handful of little red lights cutting through the deluge. And most of them will seem to find your suggested destination distasteful, roll up the window, and drive off.
Take it easy and let us take you there. If anything, saving yourself the headache of navigating the city in the rain can facilitate more adventure. And of course an English speaking local driver will know how weather is affecting attractions, traffic, and be able to help you to make any adjustments to your schedule as events on the ground unfold so that you are able to enjoy all of the things you've planned to.
People who read this also read: