Wan Fah Dinner Cruise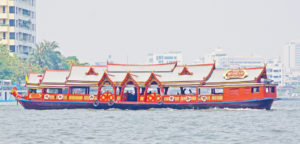 With over 10 million inhabitants, Bangkok can feel hectic at times. A cruise along the Chao Phraya river provides a wonderful alternative to tuk tuks, taxis and metros and allows you to see some of the most famous landmarks in the city while not being stuck in traffic or having to push through a crowd of people.
There are dozens of operators offering various cruises every day of the year from from full-day tours exploring all the little canals and markets to luxurious and romantic evening dinner cruises. At the more affordable end of the market, Wan Fah Dinner Cruise offers a great way to experience Bangkok from the river with a 2 hour dinner cruise featuring an authentic Thai or seafood dinner.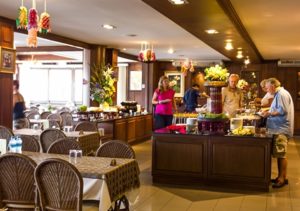 What I love about this cruise is the beautiful Thai style barge boat. Sit by the open window and you can feel the evening breeze on you as you take in the beautiful sunset views from the river. Combine that with a classic Thai style dinner and perhaps a cocktail or a glass of wine as you pass by some of the city's historical and cultural landmarks such as Wat Arun and the Royal Palace, and you can probably feel all tensions ease as you breathe in the night air that's part oxygen and part river.
Personally, I'm not the biggest fan of the type of traditional entertainment that is provided for tourists in these types situations, but I'm well aware that many visitors enjoy such things. At the Wan Fah Dinner Cruise, entertainment is provided in the form of classical Thai dancing by a number of young performers who all appear perfectly talented and charming.
As I said, many visitors will find the traditional entertainment a really lovely addition and the boat itself certainly has lot of character. Certainly, if you're looking for an alternative to wandering the streets, Wan Fah Dinner Cruise will offer a lovely and relaxing alternative, spiced up with a liberal sprinkling of local culture.
Wan Fah Dinner Cruise departs at 7pm from Ratchawong Wharf with transport to and from your hotel included in the price.
We can also get discounted tickets for you. Contact us for more information.
People who read this also read: