Artbox at The Em District
The latest in pop-up night-markets, Artbox @ The Em District is a creative, temporary weekend night market and the latest hotspot in a city already heaving with trendy night-time hangouts. Built almost entirely out of disused storage containers, this is the place right now to shop for trendy clothes and accessories and enjoy a variety of international and street food in an open-air setting while being entertained by a live band or a DJ.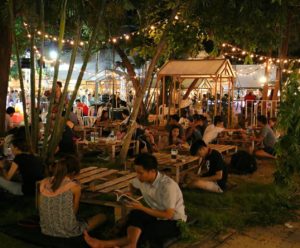 It's a nice place to shop for clothes and accessories, particularly if you're looking to move away from the usual tourist trap offerings.  There are some unique creations from young Thai designers, hand-made prints, locally designed and made bags, accessories and artsy stuff. Prices are not rock bottom cheap, but they're not expensive either.  
And then there's the food! With so much on offer, I would recommend going on an empty stomach and making a feast out of it. How about an authentic curry wurst from a German food truck, a super cheesy grilled cheese sandwich, some buffalo wings or even oysters? And that's just a tiny selection of foods on offer here.  Some of the more unusual stuff also available include a Japanese company called Yumkuza with their "green caviar" which is a kind of low-calorie, high-nutrition food made out seaweed. It's kind of weird, but this could be the next big thing in superfoods for all we know. You heard it here first!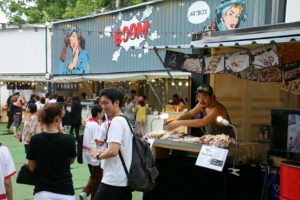 Finally, what would a cool, hip night market be without selling colourful drinks aimed at the Instagram generation served from unusual containers? The "Devil Blood Fruit Punch", a bright red concoction served in an infusion bag, is one such imaginative offering from Calendar Bistro, while elsewhere the ubiquitous bucket also makes an appearance in a multi-coloured form.
Besides the many food and drink stalls, free entertainment is provided nightly by live local bands and DJs. The open-air setting makes it an ideal place to hang out for a few hours soaking in the young, hip and cool vibe of creative, urban Bangkok. On the whole, the atmosphere here is laid-back, and as it's a lot smaller than most other Bangkok markets, it doesn't attract similar huge crowds, which can only be a good thing in my opinion.

As the market tends to move around the city, you can experience Artbox at its current location until Sunday 26 June 2016, after which it might close for a while before relocating to a new, as yet undisclosed location. If you're in Bangkok over the next couple of weekends, I would recommend giving it a try while you have the chance!
People who read this also read: