Bangkok Markets: Talad Bangkapi
Let's face it, shopping is as big a part of any Thai holiday as the cultural exploration, beach time, or the unending search for gastronomical enlightenment, but there isn't any reason some or even all of these can't be combined into one glorious 24 hour extravaganza. And so enters the market at Bangkapi.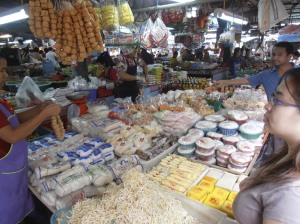 We've talked a lot about different markets around the city before, but Talad Bangkapi has yet to receive any special coverage. Here's the deal, it's more or less always open, and at one time or another you can by more or less anything. AND, it's right next to the Mall Bangkapi and Happy Land, two very interesting if very different shopping malls. And who doesn't want to check out a place called Happy Land?
Starting at around 3 in the morning the fresh market at Talad Bangkapi starts selling primarily vegetables, seafood and meats. Later in the morning the fruits start to make a greater showing. Now, throughout the day there are tons of food stalls of all derivation, but as the sun turns in for the day the food cart wizards come out to weave their spells and paint the air thick with their heady concoctions.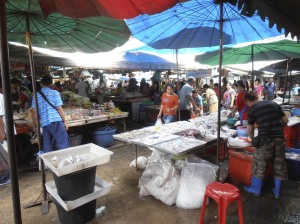 The last thing worth mentioning about
Talad Bangkapi
, and one of the most worthy really, is that is not on the beaten tourist path yet is still navigable to foreign travelers. Basically this means a more authentic Thai shopping experience. A great addition to a day of shopping, but with the sprawling Mall Bangkapi across the street it can be an entire days worth of fun. Ask us for more details or to
hire a driver
/guide for your own day of shopping in the Kingdom.
People who read this also read: