Chao Phraya Princess Dinner Cruise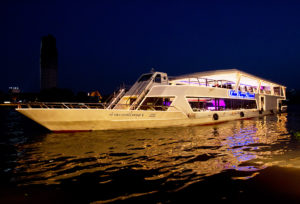 When the sun sets over Bangkok the city lights up with such dazzling brilliance that from the right vantage point it seems as though you stand between two star filled skies, one above and one below. And it is through this sparkling night scape you will cruise, with the waters of the mighty Chao Phraya rippling and shining as you drink, dine and dance your way through the old artery of the City of Angels.
The city is beautiful in its nightly gown of twinkling shadow, but there is more to an unforgettable evening cruise than the scenery alone. This is why we have selected our favorite of the many ships that cruise up and down the Chao Phraya, the Chao Phraya Princess.
In addition to being left breathless by the lamp lit majesty that is Bangkok itself, you will be lost for words at the mouthwatering spread of international and Thai delights that you will be able to dine on at your leisure. And if you do think of something to say you're likely to find you're too busy enjoying the food, drink, and live entertainment to mention it.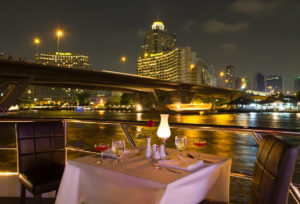 After receiving your complimentary welcome drink and snacks upon boarding the ship, the band will strike up and get the evening jumping with a set list of international favorites that will have you humming along tapping a hole in the floor. The Princess will cruise along the river past the major attractions like Wat Arun – Temple of Dawn, the Grand Palace, Rama VIII Bridge, Wat Kanlayamitr, the National Museum and the National Theater.
No need to feel rushed, the cruise takes an easy two and a half to three hours to make its way lazily down the majestic moonlit river so you will have plenty of time to try everything you'd like from the buffet, capture as many memorable photos as you can, and to dance until your legs hurt. Bon voyage and bon appetit!
If your hotel is located in central Bangkok staff from Chao Phraya Princess can arrange for transport for you at no extra cost. If you are located outside central/downtown Bangkok or if you prefer a private transport we can take you there and back again.
The Dinner Cruise is in the evening with pick up about 18.00 pm -19.00 pm
(depends on where you stay)
We can also get discounted tickets for you. Contact us for more information.

People who read this also read: