Dinosaur Planet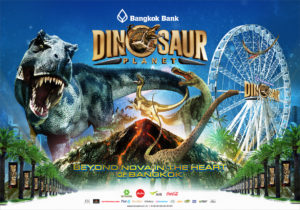 Dinosaurs and robots are always popular with children, so what better way to entertain the kids than by taking them to a theme park filled with giant animated dinosaurs. A relatively new attraction in the heart of Bangkok, Dinosaur Planet consists of a variety of dinosaur-themed activities and has become a big hit with locals and visitors alike.
The attraction is divided into various different zones:
Stars of Dino is a very popular zone that takes you back in time to discover the different historic periods during which dinosaurs roamed the Earth. Children will love the outdoor area where they'll get to interact with all kinds of robotic dinosaurs including a growling T-Rex and dozens of others.
Raptor X-treme is fun. In this zone you will be chased by people in dinosaur costumes as you go on a mission to battle the Velociraptor in an interactive game of cat and mouse that can be quite entertaining for the whole family.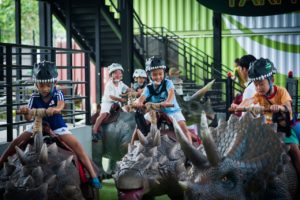 The Dino Farm, on the other hand, is made for the younger children. Here is where you get them to ride on a dinosaur, dig up fossils and learn about dinosaurs through interactive games. Engagement levels might vary, depending on how much into dinosaurs your kids are, I guess.
Dinosaur District is the interactive edutainment sector where you can learn about dinosaurs through various multimedia presentations. You can go through different rooms, see the science behind the different creatures, watch dinosaur eggs hatch in the 'Dino lab' and see a walking baby dino. Aww.
At the Great Volcano kids get to watch a live volcano eruption and learn how dinosaurs faced extinction. The show is narrated in Thai, so foreigners might miss out on some of the educational aspects, but kids should still enjoy the prehistoric costumes and the colourful volcano in action.
Finally, there is also a 4D simulator where kids get to explore the ocean world with moving projections and a dinosaur themed Ferris wheel called Dino Eye.
If you're travelling with children, Dinosaur Planet will most definitely keep them entertained for a few hours. The location is fantastic, right on Sukhumvit Road only a few minutes' walk from Phrom Phong BTS. Dinosaurs are great crowd pullers and it does get busy, so I would try to go on a weekday instead of weekends or school holidays to avoid the crowds.
People who read this also read: