Famous seafood restaurants in Bangkok
We often talk about food in this blog, and for a good reason: Bangkok is a food lover's dream come true! This week I've been enjoying lots of fresh, delicious seafood, and thought it would be a good opportunity to introduce a few restaurants you might want to try.
Laem Charoen Seafood
Laem Charoen is a well-known chain of seafood restaurants with six branches in Thailand, including two in Bangkok.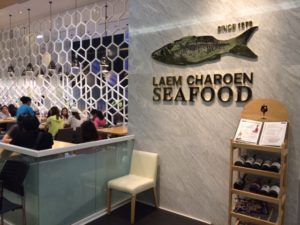 I visited the Siam Paragon branch yesterday and it was great. Don't be put off by the fact that it's in a shopping mall. This is where many local Thais come to eat because the food is fresh, full of flavour and very reasonable value for money. The menu is huge and includes different types of fish, shellfish, oysters and crab, cooked in a variety of authentic Thai style herbs and curries. A friend and I shared four different dishes between us including prawn salad, fried squid with basil leaf and coconut as well as oysters. Our bill for the entire meal came in at under 1,000 thb including drinks and service. Everything was super tasty, but I would particularly recommend the oysters. They were absolutely huge and very nice and fresh. In Thailand they're eaten with lime, chilli sauce and fried garlic instead of salt and pepper. I missed the saltiness a bit, but reckon I could give these ones another go! There's another branch in Central World, so it's a very convenient option, particularly if you get hungry after (or during) shopping.
Best for: Authentic Thai flavours and a really convenient location
Seafood Market & Restaurant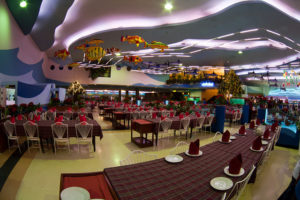 This enormous and very popular restaurant on Sukhumvit seats up to 1,500 diners, and the selection of seafood on offer is staggering. Their slogan proclaims, "if it swims we have it", and whether that's true or not, I'm sure there's very little you could want for that they don't have here. What makes the restaurant really unique is that instead of choosing a dish from a set menu, you begin by browsing the fresh food aisles with a shopping trolley, selecting your food and then paying for it at the counter. Your food is then taken into the kitchen where the chefs will cook it in any way you instruct them to. I had been put off from coming here because I always imagined it quite pricey, but a while ago when some friends were visiting we decided to give it a try. Sure, the place has a slightly canteen-like ambience, is a bit touristy and definitely pricier than your average Thai restaurant, but then again, this isn't your average dining experience. The food is well prepared and definitely fresh (so fresh that sometimes it's still alive and swimming in a tank) and therefore it's worth trying at least once, especially if you're on holiday!
Best for: Really fresh seafood and a totally unique dining experience
Summer Street
Ari is an affluent neighbourhood with a trendy vibe just outside central Bangkok. It's also home to my very favourite seafood BBQ in town, Summer Street. Hidden at the end of an unassuming soi, a few minutes from BTS, this cool little food truck has been skyrocketing in popularity since opening for business just a couple of years ago. It's a concept dreamt up by a couple of friends with backgrounds in design, and the passion for visual detail really shows here. The emphasis, however, is on food. Fresh Thai seafood that comes in a basket that you cook at your table over a charcoal grill. I went there for my birthday earlier this year, and really enjoyed the meal and the atmosphere. My friend and I shared a medium-sized seafood basket, which I thought for 600 thb was terrific value for money. Barbecuing your own food has the fun factor, and the trendy, open-air setting is just the icing on the cake. If you don't wish to enjoy the scrumptious seafood, it's also possible to just sip a cold drink at the bar (although it's best to avoid Friday and Saturday as it gets incredibly busy) while perhaps snacking on a couple of oysters. As you do. I really love this place, and I think it should definitely be on your list.
Best for: Great value BBQ, trendy atmosphere and Instagram photos
People who read this also read: