Jim Thompson's Farm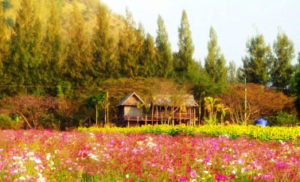 In 1988 the Thai Silk Company, established by Jim Thompson, decided to invest in its own mulberry plantation and silkworm production centre in order to ensure a reliable supply of raw materials for production of its silk products. Jim Thompson's Farm was opened to public in 2001, and has since become one of the most popular ecotourism attractions in the Isan region.
The farm tours take place daily in the peak of the cool season (December/January), presenting a unique opportunity to see the full life-cycle of silk worms and the silk farming process. The tour itself is divided into four stages with an open tour bus regularly covering the route, so visitors can choose to alight at points of interest, explore the attractions freely and then get on board the next bus that comes along.
The first stop on the tour is the Sun Hemp Field & Hanging Garden where hydroponic flower gardens and decorative plant nurseries can be enjoyed. All fruits and vegetables here are organic, and produce grown here is available to purchase at the Jim Thompson Market.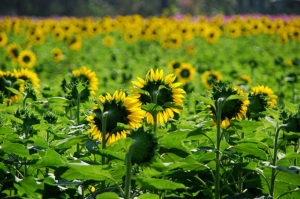 Next stop is the Sunflower Field & Pumpkin Farm. Visitors are greeted by vast fields of bright yellow sunflowers and other colourful flowers as well as some gigantic pumpkins at the impressive pumpkin patch.
The Isan and Khorat villages are popular attractions in their own right featuring traditional houses from the region that have been kept in pristine condition. Visitors can observe daily traditional life in the village and even try their hand at reeling silk yarn from silk worm cocoons.
Finally, the tour will finish at the Flower Garden & Jim Thompson Market. Besides admiring the colourful flower fields, tourists can observe the process of silk weaving by hand and have the opportunity to purchase hand-made silk products as well as fresh organically grown flowers, fruits and vegetables at the market.
Jim Thompson's Farm is located in the Pak Thong Chai district of Nakhon Ratchasima province. It is open to visitors daily from 9.00 am until 5.00 pm between December and January. Exact opening dates may vary each year, so check the official website or ask Bangkok Beyond for up to date information.
People who read this also read: