Madame Tussauds Bangkok
My friends were visiting Bangkok with their teenage kids, and we needed a fun activity. Something everyone could enjoy. Suddenly I thought of Madame Tussauds. There would be celebrities, selfies and air conditioning, all conveniently located in the middle of Bangkok in a shopping centre.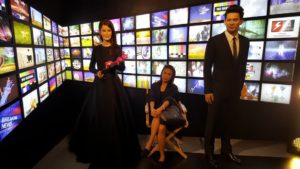 Here is a tip: you can save at least 35% on your entrance fee if you book an Early Bird ticket and arrive before 12:00 noon. We didn't know that, however, and it was slightly too late in the day to take advantage of the offer. Another option is to buy an online saver or a combo ticket, which also gives you entry to SEA LIFE Bangkok Ocean World located in the nearby Siam Paragon. Both of these discounts are also available from the Bangkokbeyond.
So  we got our tickets and headed to the exhibition. Now, my friend (she's 45 and a mother of two) is a huge fan of Doraemon, so imagine the delight when right by the entrance we were greeted by a full-sized wax figure of the Japanese cat-shaped robot. Cue wild excitement and an enthusiastic round of selfies and group photos. I know, go figure.
Anyway, the place itself is divided into 10 differently themed sections such as history, world leaders, sports, music, film & TV. Overall, there are more than 90 life-size wax replicas of famous celebrities and historic icons.  It turns out the wax models are beautiful and very realistic, crafted with the same attention to detail as in the slightly more famous London branch.
Here is a very brief rundown of the different zones:
History, Leaders
First up was the History zone, where great figures from the past such as Lady Diana, Mao Tse Tung and Mahatma Gandhi live. In the Leaders zone we got to meet the Obamas, Aung San Suu Kyi and Vladimir Putin, to name a few.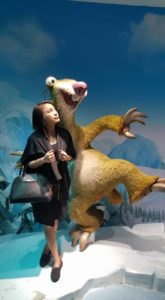 Sports, Arts & Science
Sports was a great zone, with stars such as Christiano Ronaldo, Wayne Rooney, Serena Williams, Tiger Woods and David Beckham in attendance; In Arts and Science we got to pose for pictures while playing the piano with  Beethoven and took a quiz with Albert Einstein. Ace!
Music, Film, TV and Red Carpet
Pop stars were a big hit with the younger members of our group. Katy Perry and Madonna were there as well as Lady Gaga, Justin Bieber and Beyonce. We had some fun pictures taken here. In the TV zone we posed in the studio with Oprah Winfrey and at the Film zone with Hugh Jackman, Spiderman and Bruce Lee. Then there's the Red Carpet where we rubbed shoulders with Mr and Mrs Brad Pitt, Nicole Kidman, George Clooney, Johnny Depp and others.
There were quite a few Asian celebrities in each section too from Korean pop stars to famous Thai actors and actresses. Although I'm not very familiar with a lot of them, I think it was a nice touch to have some local flavour. I think I recognised some of them from Thai TV.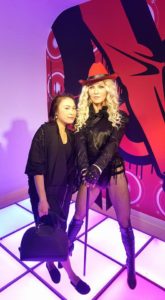 I'd heard that the attraction could sometimes get crowded, but I realised that the place wasn't hugely busy. This was very nice because a) I hate queuing and b) I don't like having my picture taken with a bunch of strangers staring. So we could actually comfortably wander around from room to room without queuing and easily pose for photos with our new famous BFFs. I mean, that's the whole point of coming here, right?  
For me, the highlight was the number of interactive displays, with costumes and backdrops, where you actually get to become part of the story. We had a wonderful time posing in the White House with Barack and Michelle Obama, pretending to be a world leader and taking penalty shots at the interactive football pitch.
At a couple of displays we were offered a chance to have our picture taken by a professional photographer. A fun souvenir for the whole family without a doubt, although it does come with a price tag (about 350 baht).
Finally, we exited through the gift shop where we were offered the opportunity to be immortalised in a wax model of our own likeness! Well, almost. Well, your hand anyway can be made into a waxwork of your chosen colour to take home as a souvenir. At an extra cost, of course.
All in all, we probably spent almost an hour and a half here. But it was exactly what we wanted and the kids didn't get bored once. Plus, we got to meet Doraemon!
People who read this also read: