Muay Thai Live Show: The Legend Lives
Westerners often see Muay Thai as a form of martial art or kickboxing. For the Thai people, however, it represents a lot more than that. Although the sport in its current form was introduced only in the last 100 years, its origins date back hundreds of years to a time when the Kingdom of Thailand was involved in numerous conflicts, and warriors were taught a close-combat technique, which allowed them to use their whole body as a weapon. The history of Muay Thai is deeply intertwined with the history of the kingdom, and a source of national identity and pride.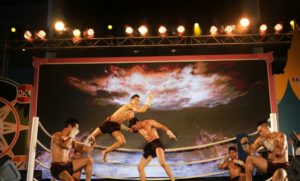 Muay Thai Live: The Legend Lives is a captivating introduction to the ancient martial art told through music, dance and choreography with dazzling performances that combine acrobatics, martial arts and sword fights.The story begins in the ancient kingdom of Ayutthaya, where a mysterious hero with unprecedented kickboxing prowess appears, kicking off a sequence of events that ushers in the golden era of Muay Thai. As the story unfolds it takes us through pivotal moments in Thai history all the way to the present day, transitioning into a love story where the hero has to rescue his girl from the bad guys.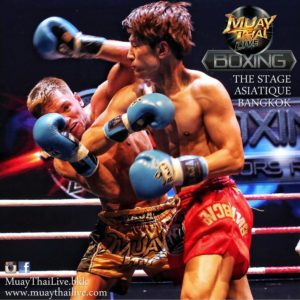 It's an action-packed show that will delight all fans of musical theatre. The fight scenes are perfectly choreographed and executed with aplomb by the cast, who by the way certainly look the part, with their toned physiques on display, torsos all lean with not an inch of fat between them. For real Muay Thai fans, there are also two live boxing fights at the end, with fighters that have been hand-picked by one of the show's choreographers, a living Muay Thai legend himself.

The show has received rave reviews and has been granted the TripAdvisor Certificate of Excellence for consistently high ratings. Muay Thai Live shows how the ancient art of Muay Thai has involved into the most spectacular martial art in the world, in what must be one of the most dazzling martial arts shows that the world of musical theatre has ever witnessed.
People who read this also read: