PB Valley Khao Yai Winery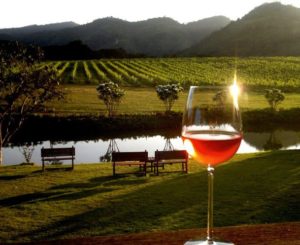 Producing wine in a tropical country presents its own unique challenges. Impressively, the pioneering founders behind PB Valley Khao Yai Winery have succeeded in establishing large scale wine production with a 500 hectare vineyard and state-of-the-art winery, which is no mean feat in a country as hot and humid as Thailand.
Traditionally, wine grapes are grown in latitudes between 20° and 50°, and although grapevines are fairly adaptable plants, they don't like extreme heat or humidity and are therefore not normally suitable for the tropics. Fortunately, Khao Yai offers some distinctive features that have contributed to its success as one of the premier wine-making regions in Thailand. Set on the edge of Khao Yai National Park at an elevation of 500 metres above sea level, the region maintains a relatively cool average temperature all year round, with morning temperatures dipping to a very pleasant 15°-20° Celsius during harvest time.
The first grapes were planted here in 1991 by the Thai owner with help from a dedicated German wine making expert. Today the estate produces 150,000 liters of wine every year – enough to fill 200,000 bottles.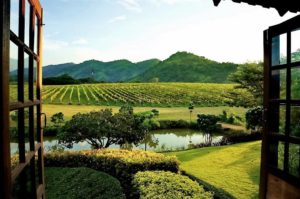 The award-winning "Vineyard and Winery Tour", which runs several times daily, takes about 75 minutes and serves as an excellent introduction to the different varieties of wine grapes and other products that are grown here. After taking a tour of the vineyards, visitors get to witness the wine-making process at the Winery and take part in a free wine tasting session which includes several varieties of red and white wines produced at the estate.
In addition, the on-site restaurant, the Great Hornbill, serves excellent steaks, pizza and Thai food complete with a selection of award winning wines from the vineyard.
PB Valley Estate is located on the edge of Khao Yai national park, about 150 km northeast of Bangkok. It is easily reached from Bangkok, and what could be easier than hiring a private car and a lovely driver from Bangkok Beyond to take you there and back. We can also get discounted tickets for you. Contact us for more information.
People who read this also read: